The IVG.1M research reactor in Kurchatov, Kazakhstan, is ready to resume experiments following the completion of a project to convert it from using highly-enriched uranium (HEU) fuel to low-enriched uranium (LEU) fuel, the country's National Nuclear Centre (NNC) announced.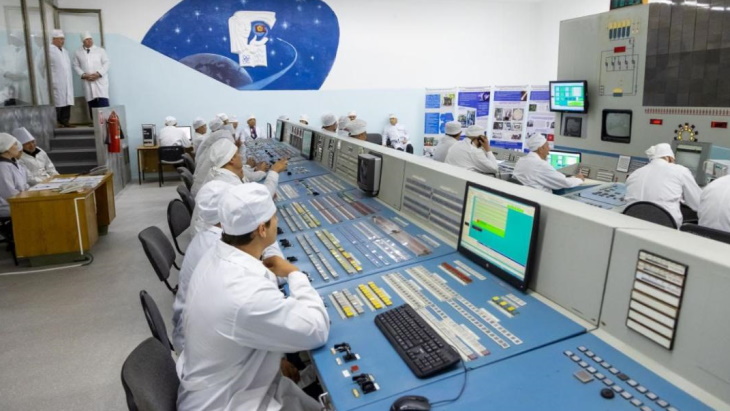 Operators in the IVG.1M reactor's control room (Image: NNC)
In 2010, the NNC commenced a project to convert the IVG.1M reactor to using LEU fuel instead of HEU fuel. By the end of 2013, theoretical and computational work had been conducted, which confirmed the feasibility of the IVG.1M reactor conversion without deteriorating characteristics.
In 2014, two experimental channels with LEU fuel manufactured by Russia's FSUE SIA LUCH were supplied for reactor tests. Reactor tests were started in 2017 and completed in October 2019 after reaching the target operating time of 1080 MWh, with a total of 49 reactor start-ups.
In September 2020, Kazakhstan and the USA signed a joint statement in which they committed to converting the IVG.1M research reactor from HEU to LEU fuel in 2021. The joint statement marked the transition to the final phase of conversion of the reactor, which the two countries have been collaborating on for more than 10 years.
The first technological channel with LEU fuel was loaded into the reactor on 31 March last year. NNC announced in May 2022 that workers at Kurchatov had successfully performed the physical start-up of the IVG.1M reactor using LEU fuel.
NNC has now announced that the reactor commenced its operation on LEU fuel "after completion of operations on conversion and preparing all permits". It said the reactor "reached the specified power level, and all reactor systems operated as normal".
"The IVG.1M reactor is ready to continue experiments and renewed research works within the budgetary and commercial programmes in the field of the peaceful atom, for which leading international organisations are of interest," it said.
NNC noted that the conversion work had not only made it possible to obtain an upgraded reactor with LEU fuel with improved output technical parameters, but also to considerably improve the technical condition of the reactor and auxiliary systems.
"This is a further significant achievement of the Republic of Kazakhstan in strengthening the nuclear non-proliferation regime," it added.
The water-cooled IVG.1M reactor was commissioned in 1975 and was established in 1990 as a result of the modernisation of the high-temperature gas-cooled IVG.1 reactor, which was originally designed for the testing of fuel assemblies and the cores of high-temperature gas-cooled reactors. During the modernisation, the gas-cooled active zone of the reactor was moved to the water-cooled zone.
Recent research at the reactor has included studies on ITER structural material interaction with hydrogen and its isotopes under reactor irradiation condition, as well as the study of reactor radiation scattering in the atmosphere to validate the safety of nuclear power.