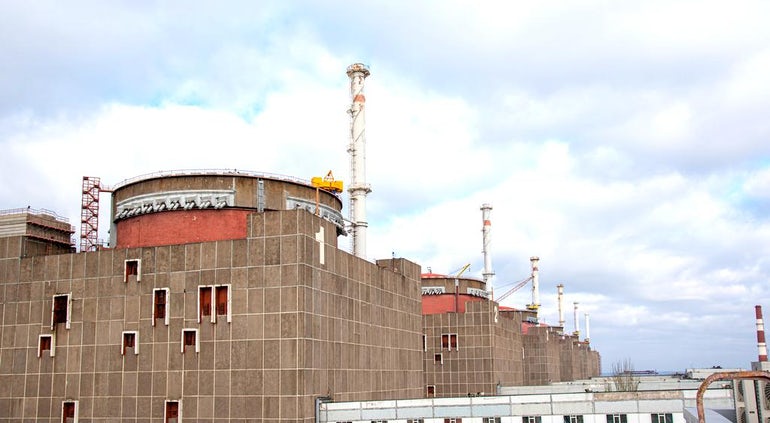 Kremlin forces have taken over Chernobyl and areas around Zaporozhye nuclear power station (pictured). Courtesy Rosenergoatom.
The European Nuclear Safety Regulators Group has urged Russia to restore the Ukrainian nuclear regulator's control over all nuclear facilities and materials within Ukraine's internationally recognised borders, in line with internationally recognised safety standards and security guidance.

The independent expert advisory group said it had held an extraordinary meeting with the International Atomic Energy Agency, the Association of Regulators of Western Europe (Wenra) and the Ukrainian nuclear regulator SNRIU to address the safety of Ukrainian nuclear installations in view of the Russian Federation's "military aggression".
It noted that the IAEA's 2009 general conference adopted a decision that "any armed attack on and threat against nuclear facilities devoted to peaceful purposes constitutes a violation of the principles of the United Nations Charter, international law and the Statute of the Agency".
Ensreg appealed for maximum restraint to avoid any action which may put the country's nuclear facilities at risk.
It said there have been increased radiation levels in the Chernobyl exclusion zone and while these are likely to be attributed to military activities in the area it remains "very concerned" about the risks posed by potential damage to storage, disposal facilities and the New Safe Confinement shelter that has been put in place over the destroyed Unit 4.
The group said any incident could significantly affect the local population and neighbouring countries. It called on foreign military forces to leave the site and "permit the unhindered regular access of knowledgeable staff of the licensee and the national regulator, in order to ensure the continuing safe operation of the site".
Ensreg said there are similar "great concerns" regarding all other nuclear sites and facilities.
Russian forces have taken control of all facilities of the Chernobyl nuclear power station, although no casualties or destruction have been reported.
While increased levels of radiation were initially measured at the site, probably due to the movement of heavy military vehicles disturbing the soil, the IAEA assessed that they remained low enough not to pose a hazard to the public.
IAEA director-general Rafael Grossi said earlier this week it is of utmost importance that the staff working at Chernobyl are able to do their job safely and effectively, and that their personal wellbeing is guaranteed.
Russia told the agency that its military forces have taken control of the territory around Ukraine's Zaporozhye nuclear station, the largest in the country which houses six of the country's 15 operational nuclear power reactors.
As of 2 March all four of Ukraine's commercial nuclear stations – Zaporozhye, Rivne, Khmelnitski and South Ukraine – remained under the control of Ukraine and were operating normally. Nine reactors are in operation with the rest either offline for scheduled outages or in reserve.