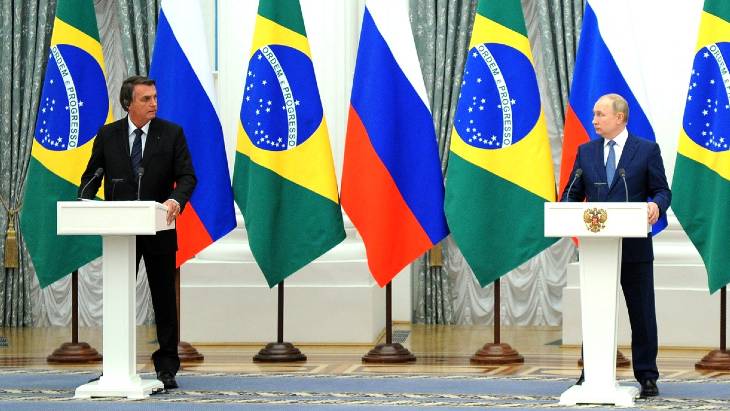 The two leaders' talks covered a range of bilateral and global issues
(Image: www.kremlin.ru)
"Russia's Rosatom exports fuel for Brazilian nuclear power plants and radioisotopes for medical purposes. Rosatom is also interested in participating in the construction of new power units in Brazil, including small capacity nuclear power plants, both on land and floating plants, because it has unique and extensive experience, and technologies that are not available elsewhere in the world," Russian President Vladimir Putin said.

Brazil's President Jair Bolsonaro said: "We have vast potential for developing cooperation in the sphere of oil, petroleum products and natural gas. We are striving to strengthen our high-level dialogue on oil exploration and production in deep-water deposits. We are interested in small nuclear power plants."
A joint statement issued after the meeting, which lasted nearly two hours, said the two countries "stressed their determination to strengthen their strategic partnership".
"The Heads of State stressed the vast potential for the development of cooperation and new business initiatives in the field of energy, emphasising the two countries' complementarity in oil and gas industry, in ensuring energy efficiency and renewable energy," the joint statement said.
"The presidents expressed their intention to expand the dialogue on issues such as off-shore hydrocarbon production, the development of hydrogen and nuclear energy."
Russia and Brazil already have ties in the nuclear energy field with a memorandum of understanding signed in 2017 by Rosatom and Brazil's Electrobras and Electonuclear to promote cooperation in nuclear power.
Brazil currently has two nuclear reactors generating about 3% of its electricity and work is expected to resume shortly, after a seven years break, on unit 3 of the Angra nuclear power plant in Rio de Janeiro.
But it is looking to further expand its nuclear capacity - last month Brazil began the process of identifying sites for new nuclear power units it wants to have in operation by 2050.
At the COP26 meeting in Glasgow last year, the Minister of Mines and Energy, Bento Costa Lima, said nuclear energy "was, is and will be essential and fundamental for the energy transition," adding that "we will add 10 GW in the next 30 years."