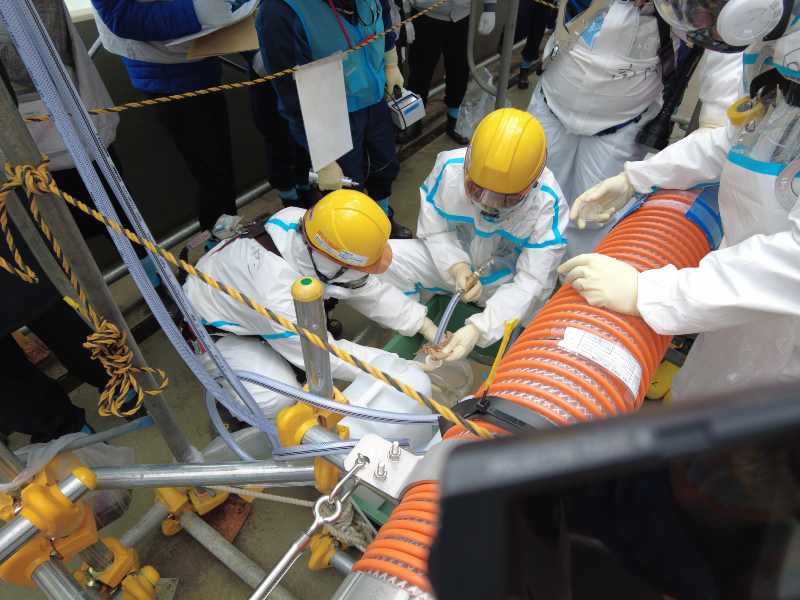 IAEA review team conducts field inspection during safety review of ALPS treated water at the Fukushima Daiichi Nuclear Power Station. Credit: TEPCO
A Task Force established by the International Atomic Energy Agency (IAEA) has arrived in Japan to review the safety of the planned release of treated water from the Fukushima Daiichi nuclear power station.
The Task Force will hold technical discussions in Tokyo and visit the site to observe handling of the water now stored in tanks.
The Government of Japan announced its basic policy last year to gradually discharge the treated water into the sea. It requested the IAEA's assistance to ensure it occurs in line with international safety standards and without harming public health or the environment. To this end, the Task Force will be in the country from 14-18 February.
The team comprises staff members from IAEA departments and laboratories, as well as eleven independent, internationally recognized experts with diverse technical competencies, according to IAEA.
On the last day of the visit, Lydie Evrard, IAEA Deputy Director General and Head of the Department of Nuclear Safety and Security, will address the media at a virtual press conference to discuss progress and findings.
IAEA Director-General, Rafael Grossi, said: "The IAEA's Task Force, with its independent, technical and impartial members from across the globe, will play a crucial role in monitoring and reviewing Japan's implementation of its water release plan," he said. "The Task Force will verify that the water discharge is conducted safely. This will help reassure people in Japan and elsewhere in the world, especially in neighbouring countries."
The Task Force members will serve in their individual professional capacities and will report to Director-General Grossi. The findings from each mission will be published and compiled into a full report.
According to the IAEA, water from the Fukushima nuclear power station is treated through a process called "Advanced Liquid Processing System (ALPS) to remove radionuclides except for tritium and then stored at the site.
"Sustainable water management is key for continued progress in the decommissioning of the plant, as the tanks holding the water occupy a large area of the coastal site in eastern Japan and are nearing full capacity."