The inner safety dome has been installed on the containment building of unit 1 of the Taipingling nuclear power plant in China's Guangdong province, China General Nuclear (CGN) has announced. Taipingling unit 1, the first of six Hualong One units planned at the site, is scheduled to start up in 2025.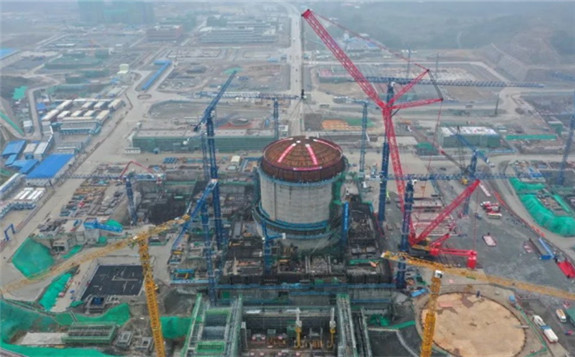 The steel dome - comprising 70 wall panels and measuring 45 metres in diameter and almost 14 metres in height, and weighing about 225 tonnes - was assembled on the ground. In an operation lasting more than two hours, it was raised 70 metres by crane and placed on top of the walls of the double containment structure on 24 December. An outer dome will subsequently be installed over the inner one.
CGN said it used "three-dimensional modelling and other intelligent nuclear power construction technologies" in the dome hoisting process, which was completed seven days ahead of schedule.
The main function of the containment dome is to ensure the integrity and leak tightness of the reactor building, and it plays a key role in the containment of radioactive substances.
Installation of the dome means the project has "fully transferred from the civil construction stage to the equipment installation stage," CGN noted.
Construction of the first phase of the Taipingling plant - units 1 and 2 - began in 2019 and 2020, respectively.
Once all six Hualong One units are completed at the Taipingling plant, its annual power generation will be some 50 billion kWh, CGN said. The plant, it said, will "provide a steady stream of clean energy for the sustainable economic and social development of the Guangdong-Hong Kong-Macao Greater Bay Area."
CGN is constructing two demonstration Hualong One units at its Fangchenggang plant in the Guangxi Autonomous Region. Those units are expected to start up later this year. It has also started construction of the first two of six Hualong One units planned at San'ao in Zhejiang province.