A contract signed by the Ukrainian nuclear operator Energoatom and US vendor Westinghouse will trigger the engineering and procurement of components for the first of several AP1000s planned for Ukraine.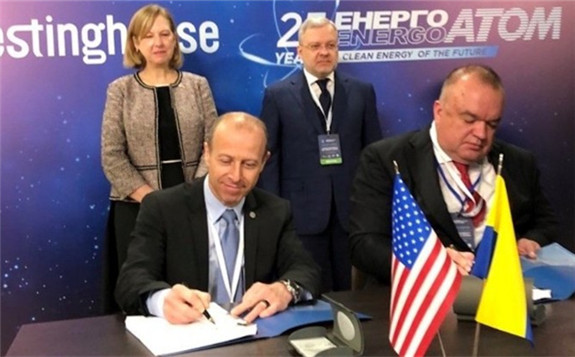 "This contract to build the first AP1000 plant at the Khmelnitsky site brings the country one step closer to reaching its decarbonisation and energy security objectives," said Westinghouse President and CEO Patrick Fragman. Energoatom Acting President Petro Kotin said, "The agreement ... opens a new stage in the development of Ukraine's nuclear energy sector."
In September a suite of deals between Ukraine and the USA specified that five new reactors could be built "using AP1000 technology". The first is to be Khmelnitsky 4, where engineers have the opportunity to make use of historic structures of a VVER-1000 reactor for which construction stalled in 1990 at 28% completion.
A technical delegation from Westinghouse visited Khmelnitsky this month, and Energoatom managers have taken a tour of stored AP1000 components from the cancelled VC Summer construction project in South Carolina.
Today's deal was signed in Kiev by Kotin and Fragman as the centrepiece of a conference entitled Nuclear Opportunities for Development of the Country. Ukrainian energy minister Herman Halushcheko and US chargé d'affairs to Ukraine Kristina Kvien were in attendance.