Vineyard Wind, a joint venture between AVANGRID and Copenhagen Infrastructure Partners (CIP), has shipped the first GE Haliade-X 13 MW wind turbine from the New Bedford Marine Commerce Terminal to its location more than 30 miles (about 49 kilometres) off the coast of Cape Cod in the US.
The GE Haliade-X 13 MW wind turbine components started arriving at the New Bedford Marine Commerce Terminal in May.
A few months later, the first 98-metre-long blades arrived on the Rolldock Sky heavy load vessel, while the first nacelles reached the terminal last month.
Foss Maritime, a US service contractor that provides union jobs for its employees, has partnered with DEME Offshore US to design and build specialised US-flagged barges to transport the components to the Vineyard Wind 1 offshore wind farm area.
The Marmac in New Bedford, Massachusetts, and the Foss Prevailing Wind in Boston, both 400 feet long (approx. 122 metres), are the only two barges in existence capable of transporting in an upright position GE's Haliade-X turbine components that, when constructed, will rise more than 700 feet (about 213 metres), said Vineyard Wind.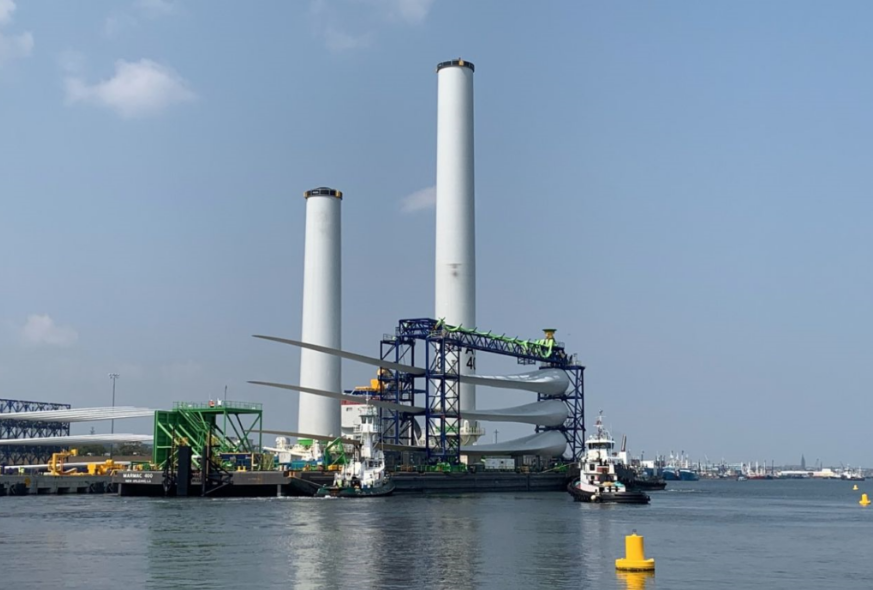 Source: Avangrid/LinkedIn
GE will initially load the US-flagged Marmac from the New Bedford Marine Commerce Terminal with three vertically placed tower sections reaching more than 200 feet (approx. 61 metres) in height, three 321-foot-long blades (about 98 metres), and a nacelle pod that houses the generating components.
Foss will deliver loads weighing more than 1,700 tonnes each, to construction partner DEME Group's Sea Installer vessel which is, with 300-foot-deep (about 91 metres) legs, stationed 65 miles (approx. 105 kilometres) from New Bedford south of Martha's Vineyard.
"Over the past year, we have achieved significant milestones in the development of Avangrid's Vineyard Wind 1, but the installation of the project's first turbine stands as a singular landmark for offshore wind, clean energy, and climate action in the United States," said Pedro Azagra, Avangrid CEO.
"We are proud that local union labor will pioneer the installation of the massive GE turbines that will harness the winds off the shores of Massachusetts to power more than 400,000 homes and businesses across the Commonwealth."
Vineyard Wind 1 will feature 62 GE Haliade-X 13 MW wind turbines installed by DEME's jack-up Sea Installer.
"The DEME crew on our Sea Installer vessel can't wait to receive these components and work with the highly skilled union workers from the Massachusetts Building Trades to build America's first large scale offshore wind project and launch this new and vital clean energy industry," said Bill White, President DEME Offshore US.
The wind farm is expected to generate electricity for more than 400,000 homes and businesses in the Commonwealth of Massachusetts, create 3,600 Full Time Equivalent (FTE) job years, save customers USD 1.4 billion over the first 20 years of operation, and is expected to reduce carbon emissions by more than 1.6 million metric tons per year, the equivalent of taking 325,000 cars off the road annually.
"This installation truly marks the beginning of offshore wind in America with New Bedford as its launching pad," said Massachusetts State Senator Mark C. Montigny.
"We are proud to see local workers building these incredible turbines that will literally transform our economy, lower energy costs, and help combat climate change through lower carbon emissions. We still have a long way to go, but today is a strong step toward meeting the goals set forth by the legislature when it initiated the nation's first offshore wind procurement law."
Vineyard Wind estimates that approximately 400 union members have worked on the project to date.
The Vineyard Wind 1 offshore wind farm is the first commercial-scale offshore wind farm to be approved for construction in the US.