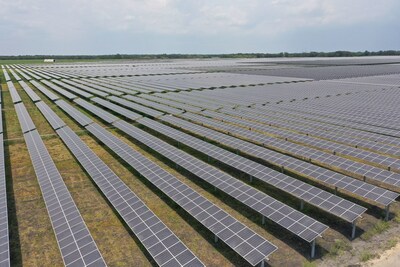 Bechtel has announced the completion of the Cutlass Solar project in Fort Bend, Texas, the US. The solar photovoltaic project added 140 MWDC to the Electric Reliability Council of Texas' Houston Zone, enough to power approximately 20 000 homes with zero-carbon electricity and eliminate 300 000 t of carbon dioxide (CO2) emissions.
"Bechtel is supporting America's energy transition by providing development capital for critical projects like Cutlass, and by building our own specialty solar construction equipment fleet and developing and deploying a digital execution platform for our renewable customers," said Kelley Brown, EPC Operations Manager, North America Core Renewables, Bechtel Infrastructure. "We are committed to doing our part to help promote a decarbonised environment for future generations."
Bechtel partnered with Advanced Power in the development of Cutlass Solar through Bechtel Enterprises, the company's project development and financing arm.
"This is an important milestone in the long-standing partnership between Advanced Power and Bechtel," added Matt Strangfeld, Managing Director, Bechtel Enterprises. "Bechtel is committed to efficiently creating new, high-quality clean energy projects through our integrated project development and construction approach."
At the peak of construction, Bechtel parented with local contractors, and filled more than 300 jobs with workers from the area. Bechtel performed the engineering, procurement, and construction, and provided full turnkey services including the procurement and delivery of nearly 345 000 solar panels – successfully navigating shipping and logistics constraints and the US import requirements in record time. Together with Advanced Power, an owner of the project, Bechtel developed innovative contracting solutions to advance the project and minimise completion delays.
"We are proud to continue our role as global developer, manager, and owner of renewable and low-carbon energy infrastructure in partnership with Bechtel as our EPC," commented John Coleman, Advanced Power's Director of Construction. "Cutlass is the fourth clean power project successfully delivered together that is displacing CO2 emissions around the globe."
Bechtel is currently working on over 2 GW of solar and wind power projects in various stages of development and construction throughout the US. Applying its project development capabilities and EPC experience and expertise, Bechtel has capacity to participate in innovative clean energy and renewables projects from the development stage through commissioning and handover to ensure schedule certainty, local content, systems integration, and sustainability.
Cutlass Solar is the fourth project Bechtel has delivered for Advanced Power.