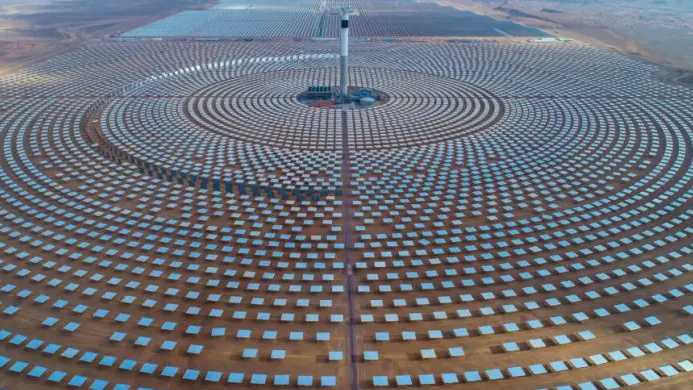 The Noor Ouarzazate Solar Complex is a 580MW solar power project located 10 kilometers north of the Moroccan city of Ouarzazate. It's the world's biggest concentrated solar power facility.
The construction of a 160MW concentrated solar power (CSP) plant, dubbed Noor I, was phase one of the Ouarzazate solar power plant project, while phase two featured the construction of the 200MW Noor II CSP plant and also the 150MW Noor III CSP unit. In phase three, a 70MW
The first phase of construction began in August 2013, and Noor I was inaugurated in February 2016. In 2018, Noor II and Noor III were also commissioned. While Noor I and Noor II produce energy using concentrated solar power (CSP) technology and mobile 12-meter-tall parabolic mirrors, Noor III was to employ a solar tower to present a technological variation of CSP technology. Photovoltaic technology was to be used in the fourth phase.
ACWA Power Ouarzazate, a consortium comprising ACWA Power, the Moroccan Agency for Solar Energy (Masen), Aries, and TSK, constructed the project under the build, own, operate, and transfer (BOOT) strategy. A consortium led by NOMAC, an ACWA Power subsidiary, and Masen manages and maintains the Noor Ouarzazate Solar Complex.
Significance of the Noor Ouarzazate Solar Complex
The Noor solar energy plant was the country's first renewable energy project. Four more solar plants were expected to follow, providing a total of 2 GW of power by 2020 to cover the country's energy demands, which were met by imports to the tune of up to 95%. Morocco's solar-power policy was also to help minimize global warming. As the host of the United Nations Climate Conference (COP22) in November 2016, the country was leading the way.
The Noor I CSP plant created around 1,000 construction employment opportunities and 60 permanent jobs during the operation and maintenance phase. By offsetting 240,000 tonnes of CO2 emissions per year, Noor I was projected to contribute to the fight against global warming. Together, Noor II and Noor III were to help reduce 533,000 tonnes of CO2 emissions annually. When completed, the entire Noor solar complex was expected to reduce global CO2 emissions by an estimated 760,000 tonnes per year.
The Noor Ouarzazate Solar Complex was supposed to deliver solar power to 650,000 local residents from daybreak to three hours after dusk. That was the country's peak period for power use. The electricity capacity was aimed to be 580 MW by 2018, with a storage capacity of 7 to 8 hours, allowing power to be supplied to 1 million residences day and night.
Technolgy applied in the Noor Ouarzazate Solar Complex
For the first three plants, Sener was the technology licensor. Sener's unique SENERtrough cylindrical parabolic troughs were used in Noor I, SENERtrough-2 parabolic trough collectors were used in Noor II, and salt receivers were utilized in Noor III. Noor IV, the solar power plant, uses PV. The molten salt storage capacity of the Noor II and Noor III units is seven hours apiece, whereas Noor I has a three-hour capacity.
Other plants were to employ a dry cooling system, whereas Noor I was to use a wet cooling system.
Water for the plants was expected to be supplied from the Mansour Eddabhi dam, which is about 12 kilometers away from the project site and stored in 300,000m3 water storage basins. Noor II spans 612 hectares and features 400 loops, each of which is made up of four linked solar collector assembly (SCA) modules, which were to be reinforced by 12 solar collector element (SCE) modules. Noor III is around 598 hectares in size.
Noor Ouarzazate Solar Complex funding
The first phase of the Ouarzazate solar power plant reached financial closure in June 2013, while the second phase did so in May 2015. Phase one was expected to cost €500 million. The African Development Bank (AfDB) Group was the sole source of funding.
In the second phase of the Noor complex, the total investment was $2 billion, with an 80% loan and 20% equity.
Masen provided the whole debt facility, including financing from the AfDB, Agence Française de Développement, Clean Technology Fund, European Commission, European Investment Bank, Kreditanstalt für Wiederaufbau, and World Bank.