Clean energy comprises 2,027 megawatts of the emirate's total power production capacity of 14,517 megawatts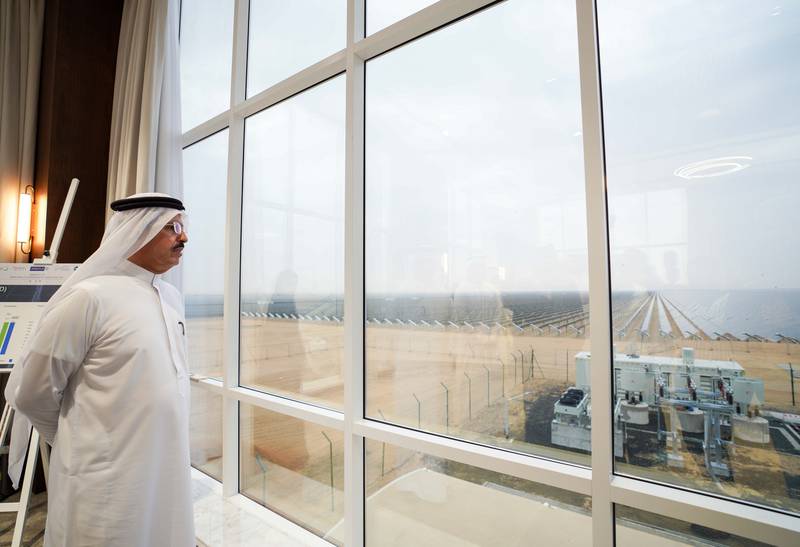 Dubai is working to promote sustainability and the transition towards a sustainable green economy, Dewa chief Saeed Al Tayer said during his visit to the Mohammed bin Rashid Al Maktoum Solar Park
Dubai said the share of renewables in its total energy production capacity has reached 14 per cent, as part of the emirate's ongoing efforts to reach its sustainability goals and transition to a green economy.
Clean energy using photovoltaic solar power (PV) and concentrated solar power (CSP) now accounts for 2,027 megawatts of the emirate's total power production capacity of 14,517MW, Saeed Mohammed Al Tayer, managing director and chief executive of Dubai Electricity and Water Authority (Dewa), said on Sunday.
The emirate is working "to promote sustainability and the transition towards a sustainable green economy. We achieve this by diversifying energy sources and increasing the share of renewable and clean energy in Dubai's energy mix", Mr Al Tayer said.
Dubai aims to generate 25 per cent of its energy requirements from renewable sources by 2030 and 100 per cent by 2050 as part of its clean energy target.
Dewa is building the world's largest solar energy park in the Dubai desert, the Mohammed bin Rashid Al Maktoum Solar Park, in an effort to reduce reliance on natural gas and diversify its power sources.
The emirate is also pursuing a green hydrogen strategy as the use of the clean fuel continues to rise globally.
Since its announcement, the Mohammed bin Rashid Al Maktoum Solar Park received "considerable interest from global developers", reflecting the confidence of global investors in Dewa's major projects in partnership with the private sector using the Independent Power Producer (IPP) model, Mr Al Tayer said during his visit to the solar park.
Through this model, Dewa has attracted around Dh40 billion ($10.9 billion) of investments and received the lowest global solar energy prices (levelised costs) five consecutive times, making Dubai a global benchmark for solar energy prices, Mr Al Tayer added.
The fourth phase of the solar park, with a capacity of 950MW and investments amounting to Dh15.78 billion according to the IPP model, is the largest single-site CSP plant in the world.
On completion, the project will have the largest thermal storage capacity in the world of 15 hours, allowing for energy availability around the clock.
The fourth phase will provide clean energy for around 320,000 houses and reduce 1.6 million tonnes of carbon emissions yearly.
The UAE plans to invest Dh600 billion in clean energy projects as part of its Net Zero 2050 strategy.
It is also building the world's largest solar plant in Abu Dhabi's Al Dhafra region, with a total capacity of two gigawatts.