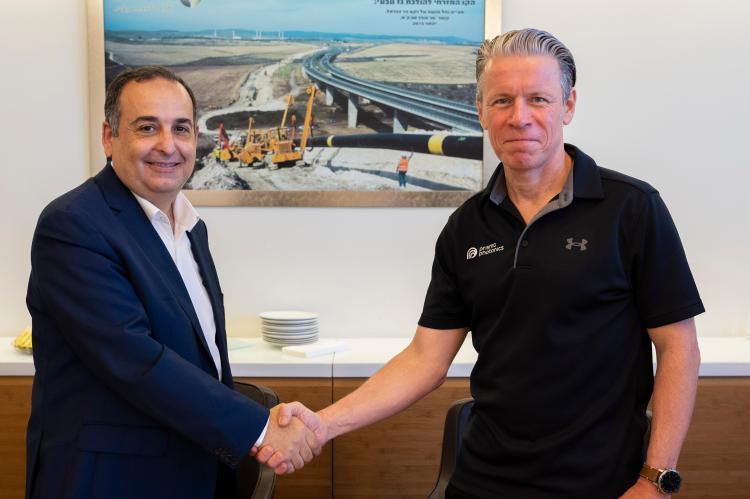 Dr. Eran Inbar of Prisma Photonics and Shmuel Turgeman of Israel Natural Gas Lines (© Maxim Dinshtein)

Israeli Natural Gas Lines recently entered into a strategic investment contract with Prisma Photonics, a company developing advanced real-time critical infrastructure monitoring systems.
The recently signed investment agreement for a pipeline monitoring system comes one year after the two companies entered into a deal in which Prisma Photonic will continuously use its PrismaFlow system to monitor gas pipeline sections in Israel.
The Israeli start-up has developed a unique monitoring solution for critical infrastructure. The PrismaFlow system is a unique sensory system operating on fiber optics and can identify leaks, alert on damaged pipes, and identify excavations in its surrounding.
The system uses optical infrastructure installed near the line that transforms the optical fibers into a series of ultra-sensitive sensors capable of identifying minor leaks and determining their locations in real-time.
"Investment in Prisma Photonics is part of the commitment of INGL to promote safety and monitoring of our gas pipeline infrastructure. Within this framework, we constantly take steps to promoting and implementing innovative and advanced technologies which allow us to address the complex challenges in the field," said Shmuel Turgeman, Israeli Natural Gas Lines' CEO.
A Real Partner
Turgeman said that by partnering with Prisma Photonics, they had found a real partner championing critical infrastructure security and the national supply chain systems' safety concern.
For his part, Prisma Photonics' CEO, Dr. Eran Inbar, said INGL's current investment in their company and previous investments by Israel Electric Company were approved. He added that it was not common for two state-owned companies to invest in the same company.
According to Inbar, Israel has thousands of kilometers of critical infrastructure, including water, electricity, natural gas, and communication infrastructure. He noted that every country strategically endeavors to secure such infrastructure and allows for quick detection of damages and malfunctions in the infrastructure way before they occur.
Prisma Photonics has patented its groundbreaking technology, which has won several international technology awards and has been installed by utilities worldwide.