Record-breaking gas prices and market volatility are the new norm. Russian gas is increasingly being shunned and the EU has declared that it envisions a future without the Kremlin's primary bread-winner: natural gas.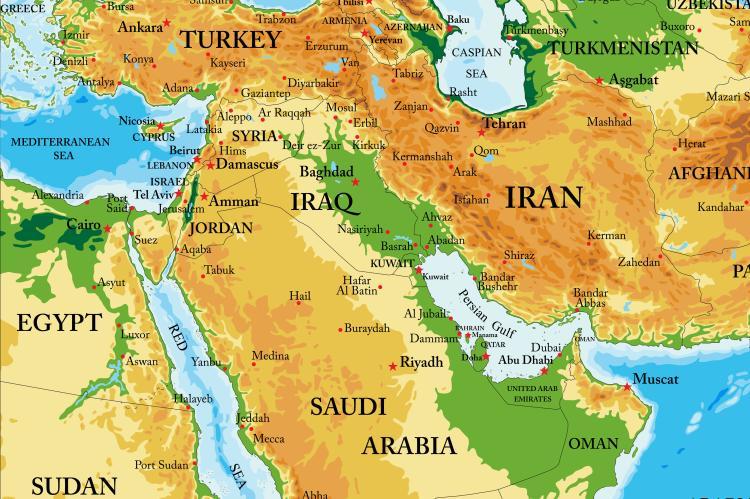 Middle East Physical Map (© Shutterstock/Serban Bogdan)

Its strategy is based on three policy objectives: improving energy efficiency, expanding the use of renewable energy and securing non-Russian suppliers of oil and gas. "We are taking our ambition to yet another level," European Commission President Ursula von der Leyen said as she presented the update at a briefing in Brussels, Belgium.
Qatar, Azerbaijan, Israel, Egypt, Iran are all potential non-Russian sources of ever more gas. The issue is transporting the gas to the EU and constructing additional pipelines for this purpose. Israeli and Egyptian sources are presently getting a lot of attention.
The 1900-km Eastern Mediterranean pipeline or simply EastMed is a planned offshore/onshore natural gas pipeline, directly connecting East Mediterranean energy resources to mainland Greece via Cyprus and Crete. The project, currently in design, will transport natural gas from the off-shore gas reserves in the Levantine Basin into Greece, and in conjunction with the Poseidon and IGB pipelines into Italy and other European regions with an estimated cost of $6.86 billion. While the United States government has called EastMed non-viable because of its cost, strategic considerations may trump the economic.
The draft memorandum of understanding, which is still subject to changes and needs approval from the governments, has been prepared. The draft deal establishes the principles for enhanced cooperation between the three partners but does not say how much gas the EU would import nor set any timelines for deliveries.
As stated in the bipartisan Eastern Mediterranean Security and Energy Partnership Act of 2019: "Natural gas developments in the Eastern Mediterranean have the potential to provide economic gains and contribute to energy security in the region and Europe, as well as support European efforts to diversify away from natural gas supplied by the Russian Federation."