Drive around middle America and you'll see
wind farms
of various sizes scattered across the country. One of the most common wind turbines you'll see is a model from General Electric (NYSE: GE) that's 1.5 megawatts (MW) with a 212-foot tower and 116-foot blades. In total, the wind turbine stands 328 feet, or nearly the length of a football field. But that's now being dwarfed by what GE is installing offshore.
Now, GE is testing a 12 MW wind turbine that dwarfs the most common turbines we see today. And if it works as planned, the Haliade-X 12 MW will power millions of homes from miles off the coast of populated areas.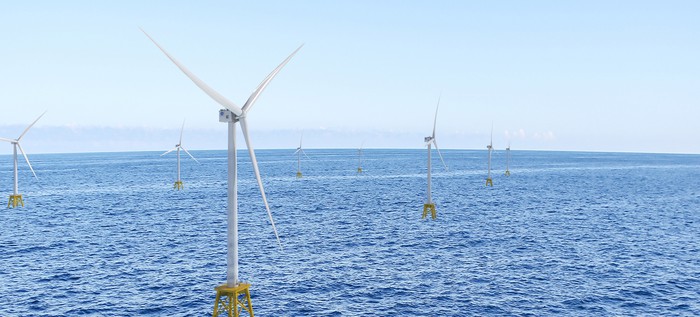 Haliade-X's great hope
Standing 853 feet tall, with blades that each extend 351 feet, the Haliade-X 12 MW promises to be not only the biggest but also one of the most efficient wind turbines in the world. GE says a single turbine can power 16,000 homes and can operate at a 63% capacity factor, or produce its rated output 63% of the time. That would make it one of the most efficient wind turbines in the world -- well above the approximately 50% capacity factor for most wind turbines and around 20% for solar farms.
One of the advantages the turbine has is that it's designed for offshore markets, where the wind blows more consistently. That allows for higher energy production and lowers the effective cost of electricity from each wind turbine.
The exact cost of turbines isn't being released, but GE says it can generate electricity that's competitive with other power generation sources. And given the traction the product has with developers, they expect it to be cost effective.
Wind is big business
The wind power business has been up and down globally depending on subsidies and the will of governments looking to expand energy projection. But wind energy has now reached a tipping point where it's less expensive than fossil fuels and should see consistent demand, especially if wind farms can be located near load centers like coastal cities.
Dominion Energy (NYSE: D), for example, recently announced a plan for 2,600 MW of wind farms off the coast of Virginia by 2026. The company expects 220 wind turbines to be installed, so a 12 MW model is likely what they're expecting to use.
Orsted's 120 MW Skipjack and 1,100 MW Ocean Wind projects off the coast of Maryland and New Jersey will use the Haliade-X. That's a big win in a market niche that GE has only dabbled in up to now.
GE's step into uncharted waters
To date, Siemens Gamesa and MHI Vestas have dominated the offshore wind market, with GE relegated primarily to onshore status. The Haliade-X may change that and give the company a puncher's chance of gaining significant share in offshore wind, where there's still a lot of market potential.
Most of the easy onshore locations near load centers have been developed, so wind's next step is going offshore. The opportunity will be worth tens of billions to the winners, and GE is finally in the game.
10 stocks we like better than General Electric
When investing geniuses David and Tom Gardner have a stock tip, it can pay to listen. After all, the newsletter they have run for over a decade, Motley Fool Stock Advisor, has quadrupled the market.*
David and Tom just revealed what they believe are the ten best stocks for investors to buy right now... and General Electric wasn't one of them! That's right -- they think these 10 stocks are even better buys.