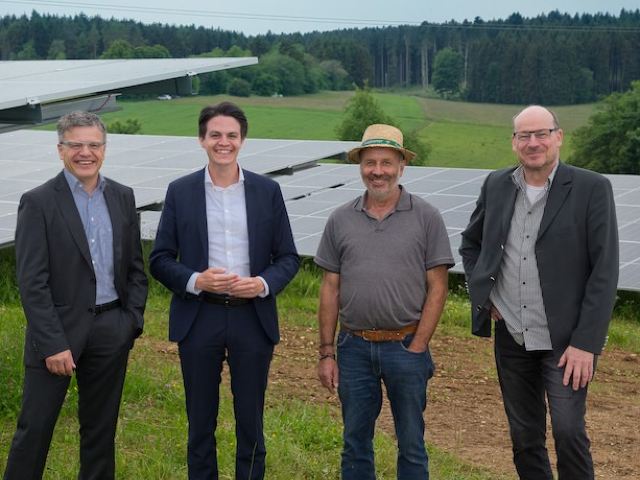 From left to right: Rolls-Royce Power Systems Chief Technology Officer and COO, Dr. Otto Preiss, Tengen Mayor Marian Schreier, property owner Gerhard Weber and solarcomplex CEO Bene Müller in front of the new solar farm in Tengen, southern Germany. Credit: Rolls-Royce
Rolls-Royce Power Systems, together with German energy developer solarcomplex and property owner Gerhard Weber, has opened the new Berghof solar park in Tengen, southern Germany.
The 3.7MW plant will generate around four million kilowatt hours of electricity per year, saving 1,300 tons of CO2 a year compared with electricity available through the German grid network.
Rolls-Royce Power Systems has signed a power purchase agreement with the solar park operators for an initial period of ten years a step that takes Rolls-Royce closer to its goal of achieving net zero emissions from its operations and facilities.
Rolls-Royce Power Systems chief technology officer and COO, Dr Otto Preiss, said in a statement: "With our Net Zero at Power Systems programme, we are pursuing strict climate protection targets. With ambitious interim targets for 2030, we aim to be completely climate neutral by 2050 across all global sites and areas from production to supply chains to our product portfolio, i.e. in all three recognized categories Scope 1, 2 and 3."
"In order to increase the feed-in of electricity from renewable sources into the grid near our plants, we are working even more closely with local partners. We are pleased to have found an experienced and competent cooperation partner in solarcomplex and to open the new solar park together today," added Preiss.
solarcomplex has set itself the goal of converting the regional energy supply largely to renewable energies by 2030. Solar power plants with a total output of over 50MW have already been realized as roof-mounted and ground-mounted systems, as well as regenerative heating networks in 18 communities.
"Throughout Germany, the expansion of renewable power generation must be accelerated, and Baden-Württemberg has a particularly high need to catch up. This can only succeed if more and larger projects are also implemented for ground-mounted solar parks. Our Berghof solar park shows how it can be done," said solarcomplex CEO Bene Müller.