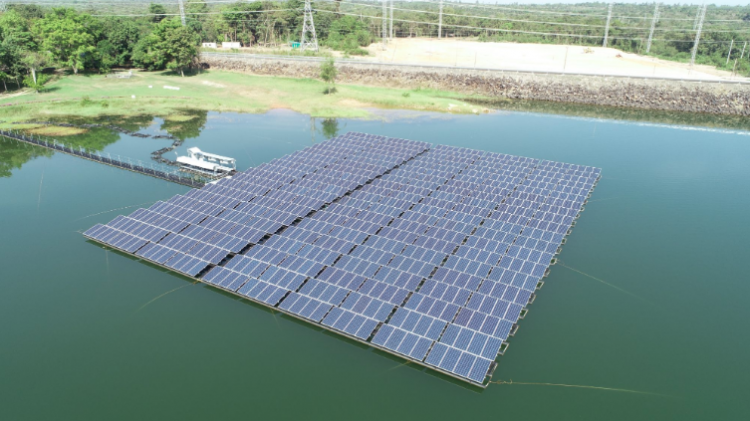 The Electricity Generating Authority of Thailand (EGAT) will soon invite bids for a 45MWac of floating solar project at the Sirindhorn Dam, which will be the national power giant's first foray into hybrid floating PV and hydro projects.
The date of bid opening for the Sirindhorn Dam Hydro-Floating Solar Hybrid Pilot Project has been set for 20 August 2019. The project location is in Sirindhorn District, Ubon Ratchatani. Relevant tender documents will be available to purchase between 20 June and 26 July.
The dam was commissioned in 1971 to serve as a hydropower facility as well as to supply irrigation water.
In a release back in April, EGAT stated: "The Hydro-Floating Solar Hybrid Project combines hydropower from EGAT's dams, which can generate a limited amount of power in some seasons, and solar power. When there is enough water, the dam can generate power to meet the system's peak demand, but when there is a limited amount of water, the solar cells can generate power from sunlight during the day and use hydropower to support high power demand during nighttime. It can generate power continuously to support the system's power demand. Other than increasing the security of the power system, it also helps manage water efficiently."
The project aims are to lower costs, increase power system security, and stabilise grid integration of renewable power generation, including the use of energy storage.
A High Density Polyethylene (HDPE) floating device made from the same material as water pipes will be used, which EGAT claims will not impact the environment and aquatic animals.
As first reported by PV Tech back in November 2018, EGAT was planning to facilitate 1GW of hybrid floating solar-hydro projects across eight dams throughout the country. This was later increased to 16 solar farms with a combined capacity of more than 2.7GW in nine of its hydroelectric dam reservoirs by 2037.
Thepparat Theppitak, deputy governor, power plant development and renewable energy, EGAT, who announced the plans, said that the 45MWac Sirindhorn Dam capacity was expected to hit commercial operation date in December 2020. Meanwhile, a second 24MWac project at Ubol Ratana Dam is due to come into commercial operation in 2023.
Floating solar continues to proliferate in Southeast Asia and globally this week with news fromDubai, Portugal, Singapore and India.