From 2023, Contracts for Difference (CfD) auctions will be held annually, the UK government has announced.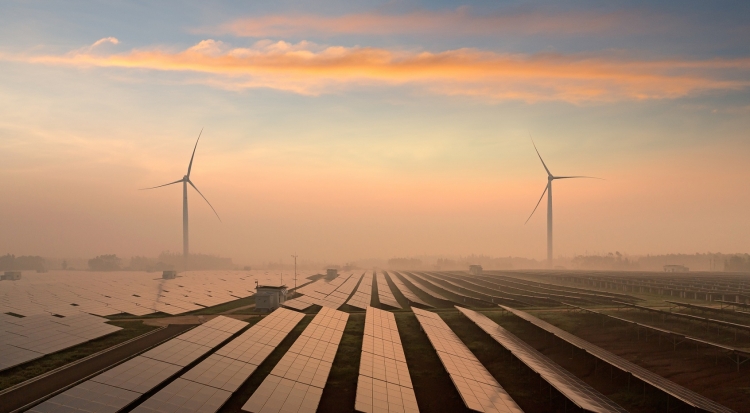 Solar and onshore wind can bid in for a share of £10 million available for Pot One technologies in AR4. Image: Getty.
"We are hitting the accelerator on domestic electricity production to boost energy security, attract private investment and create jobs in our industrial heartlands," said business and energy secretary Kwasi Kwarteng.
"The more clean, cheap and secure power we generate at home, the less exposed we will be to expensive gas prices set by international markets."
It follows the CfD scheme opening to more technologies for its fourth round, with pot one technologies such as onshore wind and solar able to bid into the latest round. It opened for bids in December, with a target of 12GW of electricity capacity set to gain £285 million of funding. Results of the auction, which closed on 14 January, will be announced in Spring/Summer the government said.
In the previous CfD round, 12 contracts for nearly 6GW of renewable capacity were awarded. Since it was first launched, the scheme has awarded contracts totalling almost 16GW of new renewable electricity capacity.
There has been around a 65% reduction in the per unit price of offshore wind since the first auction round. Additionally, a consultation was launched by the Department for Business, Energy and Industrial Strategy earlier this week (7 February) to examine how changes to the CfD mechanism's supply chain could further drive down the cost of energy generation.
The CfD scheme has been an important driver of technology reductions in the UK, as well as helping to leverage £90 billion of private investment by 2030.
Solar Energy UK's chief executive Chris Hewett welcomed the news, saying: "The UK solar industry is delighted that CfD auctions will now be every year. Solar and wind are now the cheapest forms of electricity generation in the country, and speeding up investment will help us reduce Britain's dependence on expensive and volatile gas markets. It's good news for the climate and the consumer.
"The UK needs to treble its solar energy output by 2030 to keep pace with net-zero targets. Investors are lining up to do just that, and this announcement will give them greater confidence."