Chinese manufacturer Shanghai Electric has launched a new 11MW offshore wind turbine.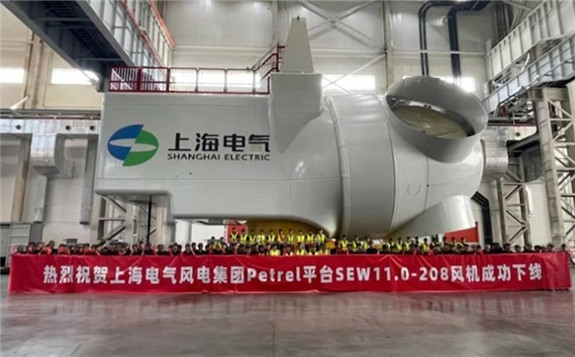 The company said the Petrel platform SEW11.0-208 machine features its direct-drive turbine, of which Shanghai Electric has full proprietary intellectual property.
It added that the SEW11.0-208 is the first offshore wind turbine to take full advantage of its self-developed Petrel platform, which is purpose-built to withstand high temperatures, humidity and salt, as well as changeable and complex marine environments such as earthquakes and typhoons.
Shanghai Electric said the turbine adopts full-cycle digital design, production, O&M management, as well as its latest LeapX control system to reduce operating load and improve the operating stability of the unit.
The turbine uses S102 102-metre carbon-fibre blades and is backed by the company's Fengyun system, a cloud-based remote management platform to boost operational efficiency and profitability for developers.
Shanghai Electric vice president Jin Xiaolong said: "As a global leader in offshore wind, Shanghai Electric is dedicated to helping China achieve peak carbon and carbon neutrality by leveraging its extensive proven technology in the field of renewable energy.
"The launch of our Petrel platform is a huge achievement for Shanghai Electric, which marks an important leap forward in our journey as we explore better and superior new energy products and solutions that lead the world stepping towards a greener future."