Hydropower plant Zlatoličje, which is already paired with a 777 kW solar power plant, will add a 2.7 MW photovoltaic facility on the side of its drain canal. Dravske elektrarne Maribor (DEM) said it would start the construction of segment 5 of its 30 MW photovoltaic project next week.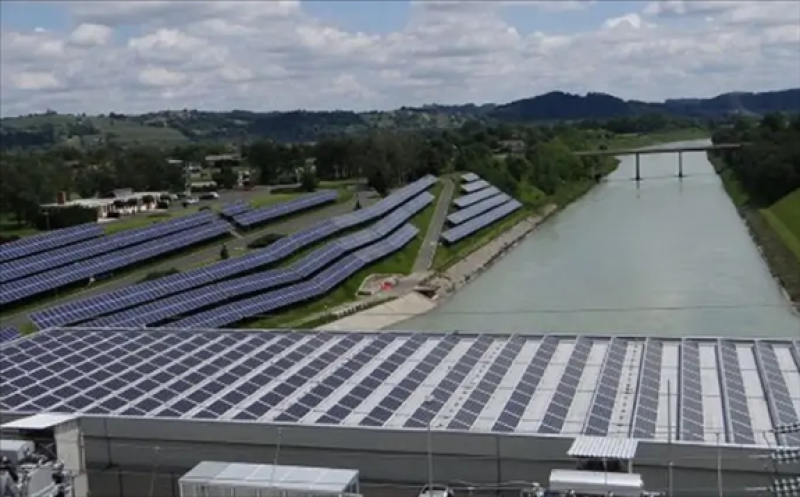 The biggest producer of electricity from renewable sources in Slovenia will use the left bank of the the country's largest hydroelectric plant's drain canal to install a 2.7 MW solar power plant. Dravske elektrarne Maribor or DEM, part of state-owned Holding Slovenske elektrarne's HSE Group, said it would start building the photovoltaic unit next week and valued it at EUR 2 million.
It will be placed on the left bank of the Drava river canal, just downstream from its 136 MW Zlatoličje hydropower plant. The unit is scheduled to be finished by the end of the year. The Municipality of Ptuj approved the construction permit in May.
Contractor HTZ Velenje will have a challenging task as the slope of the terrain exceeds 30 degrees at some places
A combination of two of more sources of electricity is a hybrid power plant, but the firm didn't reveal whether it would integrate production management at the site. It already has a 777 kW solar power plant on the roofs of the engine room, the garage and next to the inlet side of the canal.
The new photovoltaic unit will be located between Zlatoličje and the company's Formin hydropower plant. Earlier it revealed plans to install solar panels with a combined capacity of 30 MW in the same area, which would make it the biggest such system in Slovenia.
The part that DEM is about to begin to build is marked as segment 5. It is envisaged to produce 3 GWh per year. Contractor HTZ Velenje will have a challenging task as the slope of the terrain exceeds 30 degrees at some points, according to the announcement.
Segment 5 is part of a 30 MW solar power project between hydropower plants Zlatoličje and Formin
Dravske elektrarne Maribor said it is looking for suitable locations for other solar power plants as well. Aside from Zlatoličje, the company has small rooftop photovoltaic systems at Formin and two of its hydropower plants upstream on the Drava. They are all independently connected to the grid.
The firm operates eight large hydroelectric plants on the Drava and five small hydropower plants. The combined capacity of its power assets, producing almost a quarter of electricity in Slovenia, is almost 600 MW.
In addition, Dravske elektrarne Maribor is developing the projects for the country's first wind parks and a pilot geothermal power plant.
Hidroelektrarne na spodnji Savi (HESS), controlled by HSE and GEN – also a government-controlled entity, is developing a 6 MW solar power project in the vicinity of its Brežice hydropower plant.