The state-run Electricity Generating Authority of Thailand (Egat) is preparing to start commercial operation of what it claims is the world's largest hybrid power generation facility for a floating solar farm at Sirindhorn Dam in Ubon Ratchathani province in October.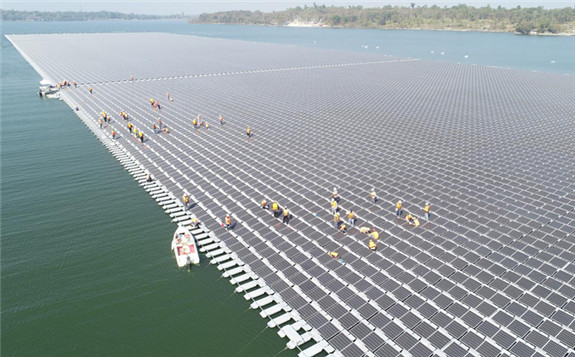 The operation of the 45-megawatt solar farm was delayed mainly due to the impact of Covid-19, which caused the government to impose lockdown measures, including travel restrictions.
The facility was originally scheduled for operation in December last year, but the launch was postponed. In January this year, Egat announced it would begin operating the floating solar farm in June.
Egat awarded a contract to SET-listed B.Grimm Power (BGRIM) to develop the Sirindhon floating solar farm early last year. BGRIM, which serves as an engineering, procurement and construction firm, won the construction contract in 2018 after bidding 842 million baht, lower than the median price of 2.26 billion.
The floating solar farm works in tandem with a 36MW hydroelectric power plant.
Power generation on a water surface requires 450 rai of land, equivalent to a land-based solar farm.
Prasertsak Cherngchawano, deputy governor of Egat for power plant development, said the floating solar farm is currently undergoing a trial operating period.
The authority announced earlier a plan to increase the power generation capacity of its floating solar farms to 5 gigawatts to enhance electricity generation at its hydroelectric plants nationwide, said Egat governor Boonyanit Wongrukmit.
He said new capacity will be added to the 2.725GW operating for its nine existing floating solar farm projects.
Egat also plans to install an energy storage system and energy management system at the Sirindhon floating solar farm to ensure stable power supply.