From a distance, the 3.4m panels making up the United Arab Emirates' largest solar power plant look like a massive lake. But Noor Abu Dhabi, nestled between camel farms and rolling sand dunes, is no mirage. The 1.2 gigawatt facility — the world's largest single-site plant — produces enough electricity for around 90,000 homes. Owned by Taqa, an Abu Dhabi state-backed utility, with Japan's Marubeni and China's JinkoSolar, it will celebrate its second anniversary of operations this month. Staff constantly scan for repairs so production can be maximised during daylight hours, while every evening more than 1,400 robotic cleaners wipe the dust from the banks of solar panels to boost efficiency. Noor and another Taqa project — an even larger 2GW solar plant under construction in Al Dhafra, nearer the capital — are emblematic of the company's ambitions to recast itself as a force in clean energy. It has outlined a new sustainable strategy with a goal for renewables to form 30 per cent of its energy mix, compared with 5 per cent now, and plans to boost domestic power capacity from 18GW to 30GW by 2030. It will set itself a carbon emissions target later this year. "We want to transform Taqa into a power and water low-carbon champion in and outside the United Arab Emirates," said Jasim Husain Thabet, chief executive of the power provider, which is majority owned by government holding company ADQ and listed on the emirate's bourse.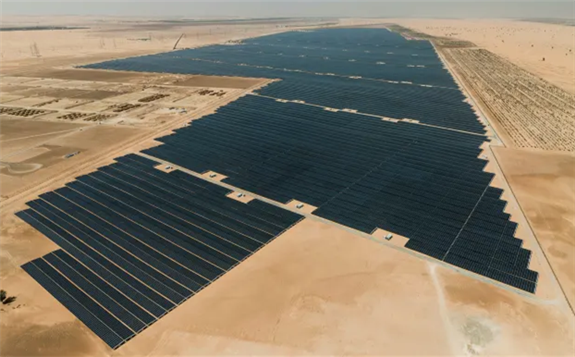 Taqa's push into renewables is a key element of the UAE's ambition to have clean energy form half of its energy mix by 2050, with 44 per cent from sources such as wind and solar and 6 per cent from nuclear power. Last year, the oil-rich emirate had 2.3GW of renewable energy capacity, or seven per cent of the power production mix, mainly from solar power, according to Rystad Energy, a research firm. It forecasts that the UAE is on track to reach its 44 per cent target by 2050. Although many Gulf governments have targets to boost solar and wind power, the UAE has been out in front. The Al Dhafra plant is expected to boast the world's most competitive solar tariff when complete. The facility, a joint venture with UAE renewable pioneer Masdar, EDF and JinkoPower, plans to power 160,000 homes when it comes online next year, reducing the country's carbon emissions by the equivalent of taking 470,000 cars off the road.
"This is about being a good citizen," said Thabet. "But it is also attractive for global investors keen on environmental sustainability, it fits in with our main shareholder's priorities and brings down financing costs." Yet Taqa's sustainability pitch could fall flat with investors scrutinising environmental concerns. Taqa has committed to capping production at its overseas oil and gas assets, which span fields in Canada, the North Sea and Iraqi Kurdistan. But although it has not ruled out selling the hydrocarbons assets that it bought during a spending spree in the 2000s, divestment is not imminent. "If the right opportunity comes we will consider it, but right now our focus is on enhancing operations and reducing emissions," Thabet said. The UAE, a leading oil exporter and member of Opec, is also committed to increasing its crude oil capacity in the coming years. The country is working towards reducing greenhouse gas emissions, but still has one of the highest per capita carbon footprints in the world. But Mohammed Atif, area manager for the Middle East and Africa at DNV, a renewables advisory firm, said the UAE, like other major oil and gas producers such as Norway and the UK, are working for a more sustainable future. "Yes, the roots and history of the UAE are grounded in hydrocarbons, but they are aware of the challenge of climate change," he said. "It is a transition, not a revolution, and that takes time."
John Kerry, the US special presidential envoy for climate, visited the Noor plant while attending a regional climate change dialogue in Abu Dhabi earlier this month, saying such "incredible energy projects" would "set us on the right path" to achieving the Paris Agreement goals that aim to limit global warming. "There's no reason why oil-producing countries cannot also be a key part of tackling the climate crisis," he said in a tweet. At the same time, Taqa is eyeing opportunities to expand in renewables beyond the UAE. Last year it merged with Abu Dhabi Power Corporation, creating an integrated utility company with ADQ owning 98.6 per cent. The government is expected to increase the free float via a share offering, Thabet said, declining to provide further details.
With exclusive rights to participate in power projects in Abu Dhabi over the next decade, the company is now mulling how to leverage that guaranteed cash flow abroad. Thabet said the company would focus on projects and investments that burnish its sustainable credentials. It wants to build 15GW of power capacity outside the UAE. The group currently produces 5GW internationally, including 2GW in Morocco. "We believe in solar and [photovoltaic] projects, so we will focus on that — but if there is an opportunity outside the UAE, such as onshore or offshore wind, then we will explore that," he said. Taqa would also consider investing in international renewables platforms to reach its targets, he added.