Tesla's aggressive price cuts in its solar energy business showed signs of paying off during the fourth quarter.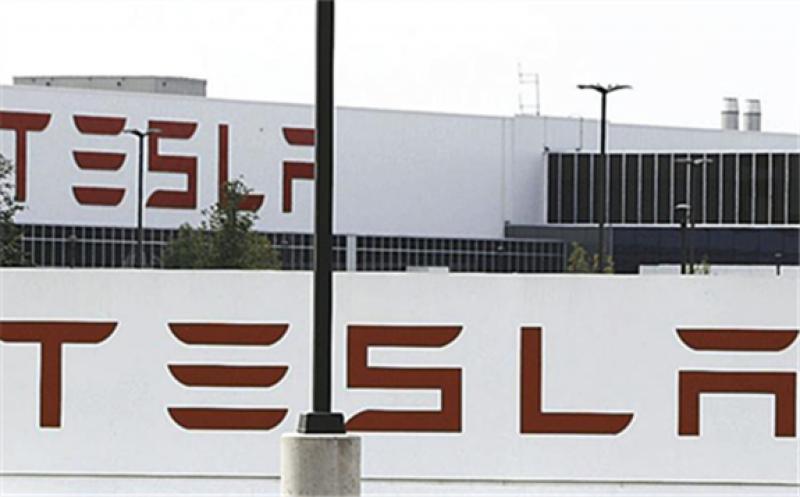 The company's solar energy deployments hit a two-year high during the final three months of 2020, rising to a level that was nearly three times greater than when its solar business bottomed out in the summer after a four-year slump.
At the same time, Tesla, which operates a sprawling factory in Buffalo that was built with $950 million in state funds, said its solar roof – the signature product at the South Park Avenue plant – is "making great progress" as the company expands its base of installers.
But Tesla did not provide any specifics about the production or installations of its solar roof, and analysts believe that any improvements in sales are coming from a relatively low base. Tesla previously said its solar roof deployments tripled from the second quarter to the third quarter, without providing any details.
But in the fourth quarter presentation to shareholders, Tesla did not disclose any details on fourth quarter solar roof deployments.
"We have also made great progress growing our solar roof deployments, as we have expanded the team while simultaneously improving our installation efficiency," the company said Wednesday.
The improvement in Tesla's overall solar energy business is less meaningful to its Buffalo operations, since its partner, Panasonic, scrapped its solar panel manufacturing venture in Buffalo last summer, eliminating 375 jobs.
Tesla, which had intentionally starved its solar energy business of resources while it struggled to launch its Model 3 electric vehicle, had seen its solar energy business dwindle to a seven-year low during the summer, as Covid-19 restrictions further hampered deployments.
Before the Covid-19 outbreak, Tesla had predicted that its solar energy deployments would rise by 50% this year, breaking a steep and prolonged decline since the electric vehicle maker acquired the business from SolarCity in November 2016. Instead, 2020 deployments grew by 17% to 205-megawatts of generating capacity.
Tesla last year cut prices on its conventional rooftop solar to a level the company said is about 30% lower than the national average. That reduced the payback period to six years on a large rooftop system in California, which requires rooftop solar on all new construction. A 4-kilowatt rooftop solar system now costs a little more than $6,000 after federal incentives.
"We do actually expect to be the market share leader and build beyond that," Tesla CEO Elon Musk said during a conference call Wednesday night.
Tesla said it deployed 86 megawatts of generating capacity during the fourth quarter, up 59% from 54 megawatts a year ago and 51% more than the 57 megawatts it deployed during the third quarter of this year.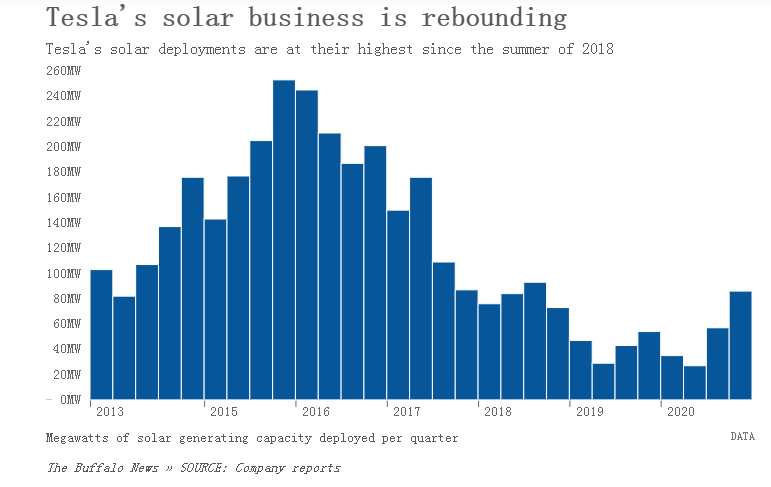 Solar roof installations, however, are relatively modest. Tesla executives previously said weekly production of the company's Solarglass solar roof in Buffalo topped 4 megawatts before the coronavirus outbreak forced the closing of most of the plant's operations in mid-March. It has since reopened, but the company has not disclosed any details about production or employment levels.
The rebound in the solar energy business came as Tesla reported its annual profit in 2020, capping a year that saw the electric vehicle maker's stock soar to a level that made it the world's most valuable automaker.
Tesla said it earned $721 million last year, including a $270 million profit during the fourth quarter – its sixth straight quarterly profit. But the profits depended on regulatory credits purchased by other automakers to make a profit.
Other automakers buy the credits from Tesla when they can't meet emissions and fuel economy standards. Selling those credits brought in $1.58 billion in revenue to Tesla last year.
Tesla said in its investor letter that it expects vehicle sales, which grew by 36% last year, to rise by 50% in coming years, with sales rising faster in some years, like 2021, than others.