Construction company Aecon has formed a partnership with fabricator and constructor ES Fox Limited to jointly manufacture steel components offsite for Canada's first grid-scale small modular reactor (SMR) at Ontario Power Generation's (OPG's) Darlington site.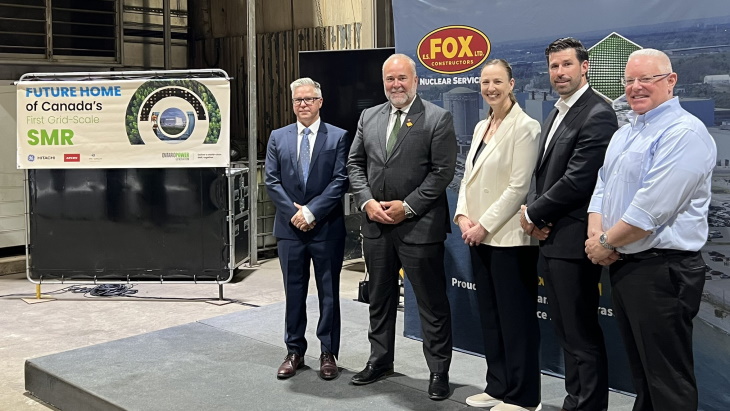 The new Ontario-based supply chain partnership was celebrated at an event held on 30 May at ES Fox's fabrication facility in Port Robinson (Image: Aecon)
Aecon is the provider of all construction services for the Darlington project, including project management, construction planning and execution as part of an Integrated Project Delivery (IPD) partnership with OPG, GE Hitachi Nuclear Energy (GEH) and SNC-Lavalin. Niagara-based ES Fox is currently completing early site preparation work at Darlington.
Through the IPD partnership, Aecon has formed a teaming agreement with ES Fox to jointly fabricate steel components offsite at Aecon's fabrication facility in Cambridge, Ontario, and ES Fox's Port Robinson, Ontario, facility. These components will be welded into sub-assemblies and shipped to the Darlington project site, where they will be built into larger modules on-site and used to construct the primary steel structure of the reactor building.
"This modular fabrication partnership is a made-in-Ontario solution, illustrating the strength of Ontario's robust nuclear supply chain - a network that is critical to deploying the future of nuclear in Ontario and beyond," said Thomas Clochard, Executive Vice President, Nuclear and Civil, Aecon. "Aecon is playing an important role in delivering the next generation of nuclear plants. We look forward to combining the collective capacity and expertise of Aecon and ES Fox to execute this important fabrication scope while working with our project partners to ensure the supply of clean, reliable and affordable electricity to support local communities and global net-zero goals."
"With the experience of both companies, we look forward to building large sections of the structure at the two facilities leveraging a modular approach and shipping them to the DNNP project site – helping reduce field labour and equipment costs, improving the overall project schedule, and supporting high-paying skilled jobs in Niagara Region," said Pat Cimek, Vice President, Construction and Fabrication Services, ES Fox.
In March 2022, ES Fox was awarded the contract to deliver early site preparation work at Darlington, including water supply, electrical power, information technology and road services. This work, valued at CAD32 million (USD24 million), will support more than 100 new jobs in the Durham region. Site preparation work - which consists of non-nuclear infrastructure activities, such as clearing and grading parts of the site to build roads, utilities and support buildings, and for which the site is already licensed - is planned to continue into 2025.
On 31 October last year, OPG submitted an application to the Canadian Nuclear Safety Commission (CNSC) for a Licence to Construct the SMR at the Darlington site. This licence is required before any nuclear construction work on the SMR can begin.
OPG expects to make a construction decision by the end of 2024 and has set a preliminary target date of 2028 for plant operations.
In December 2021, GEH was named as OPG's technology development partner to deploy a BWRX-300 SMR at the Darlington new nuclear site.
In March this year, Cambridge, Ontario-based nuclear engineering firm BWX Technologies was contracted by GEH to provide engineering analysis, design support, manufacturing and procurement preparations for the reactor pressure vessel for the BWRX-300.
The BWRX-300 is a 300 MWe water-cooled, natural circulation SMR with passive safety systems that leverages the design and licensing basis of GEH's ESBWR boiling water reactor. The CNSC issued a positive decision in March, making the BWRX-300 the first SMR to complete such a pre-licensing Vendor Design Review in Canada.