A massive, multibillion-dollar renewable and fossil-fuel energy project is underway in China. The installation, being built by China Three Gorges (CTG), includes wind, solar, energy storage and coal-fired power generation.
Ground was broken for the first pilot of the Kubuqi Base project in Dalate Banner, Ordos, Inner Mongolia on Dec. 28, 2022, according to Chinese media. Kubuqi represents an investment of 80 billion yuan ($11.6 billion). Reports said the installation will eventually have 8 GW of solar power capacity, along with 4 GW of wind power, and 4 GW of coal-fired generation, in addition to energy storage.
"The Kubuqi Base project is the world's largest wind [and] photovoltaic base project developed and constructed in … desert areas," CTG said in a statement. The company said it wants to build "the Three Gorges on the Great Wall," which is apparently a reference to CTG's major 22.5-GW hydropower project on the Yangtze River, the world's largest hydro installation and largest power plant of any kind by power generation capacity.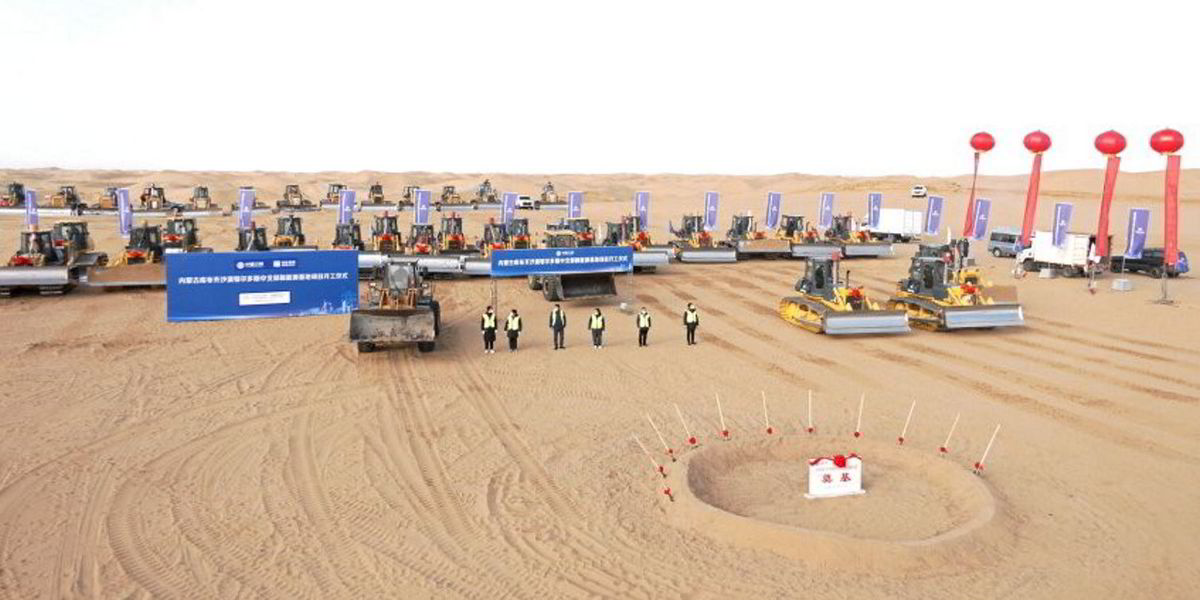 Work is underway on the first part of a massive hybrid power project in Inner Mongolia, led by China Three Gorges. Source: Three Gorges Energy
CTG said the first part of the Kubuqi project is a 1-GW solar installation with what it called "corresponding" energy storage. The company at a groundbreaking ceremony did not provide a timeline for the entire project. CTG did say it has 27 renewable energy projects in development representing 19.6 GW of generation capacity across 11 provinces, at an investment of 109 billion yuan ($15.8 billion).
The Chinese government has said it has a goal of installing 1,200 GW of solar and wind power capacity by the end of this decade.
Local media said the Kubuqi project's construction partners include CTG and Inner Mongolia's Mengneng Group. The groundbreaking ceremony was announced by Huang Zhiqiang, member of the Standing Committee of the Communist Party Committee, and executive vice chairman of the Inner Mongolia Autonomous Region. Others participating in the ceremony included Li Fumin, director and deputy secretary of the Communist Party Leadership Group of Three Gorges Group; and Du Huiliang, deputy secretary of the CPC Committee and Mayor of Ordos; and He Yuchun, secretary of the CPC and chairman of Mengneng Group.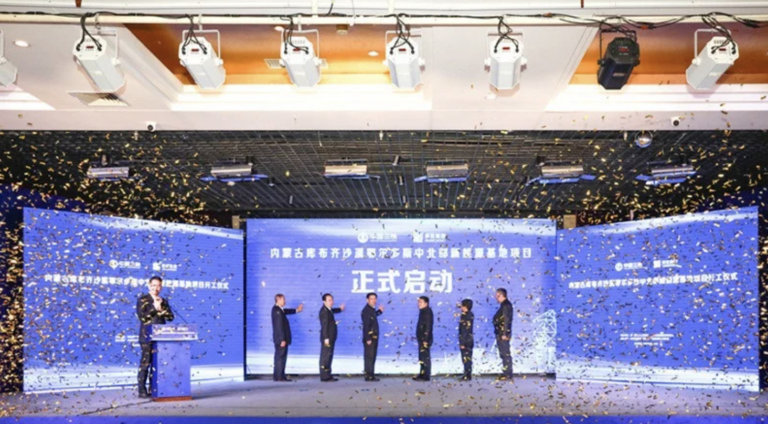 Several officials with the Chinese government, along with executives from China Three Gorges, attended a ceremony marking the groundbreaking for the Kabuqi Base power project. Courtesy: China Three Gorges
Fumin said the Kubuqi project promotes a "clean and low-carbon transformation" of the Inner Mongolia Autonomous Region, and will improve the area's energy security.
"The project under centralized construction will not only contribute to the steady growth of the national economy and promote investment, but also increase the growth and expand the space for the development of the Three Gorges Group," said Fumin. The director said Kubuqi "will strongly boost the confidence of development, accelerate the Three Gorges Group to forge new industrial competitive advantages in the process of implementing the goal of carbon peaking and carbon neutralization, promote the green transformation of economic and social development with more solid actions, and make a good start for building a socialist modern country in an all-round way contribute more power to the Three Gorges."