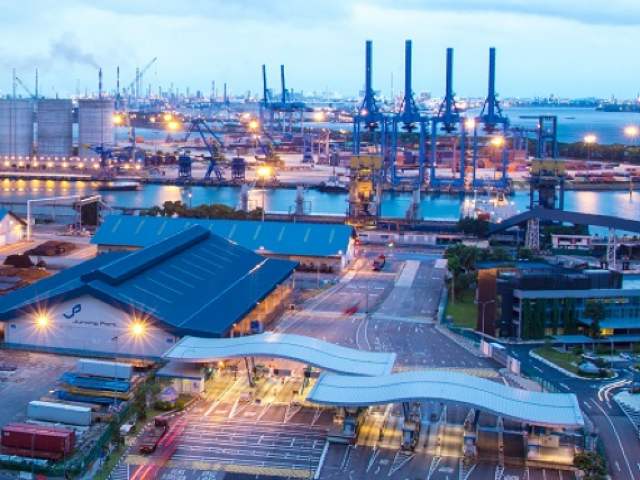 Image credit: Jurong Port Pte Ltd

Jurong Port, Mitsubishi Heavy Industries Asia Pacific and JERA Asia have signed a Memorandum of Understanding (MoU) to explore establishing a 100% ammonia direct combustion power plant on Jurong Island, Singapore.
Jurong Port is a multipurpose port operator and is one of the largest independent storage terminal operators in Singapore. The port supports approximately 30% of Singapore's annual bunkering volume and houses various chemical and energy industries within Jurong Island.
Under the MoU, a 60MW class gas turbine combined cycle plant fueled by 100% ammonia will be set up to produce carbon-neutral electricity, as well as stimulate ammonia demand for future bunkering purposes.
The partners plan to use the collaboration to commercialise ammonia for the transport and storage of hydrogen as a fuel to generate electricity and as the main bunkering fuel.
"We feel this MoU could help pave the way for encouraging the adoption of hydrogen in Singapore through aggregation of demand across multiple sectors, mainly the power sector and the maritime sector, thereby addressing the chicken-and-egg conundrum of infrastructure versus demand needs for maritime and domestic power generation," said Ooi Boon Hoe, chief executive officer, Jurong Port.
Osamu Ono, managing director, Mitsubishi Heavy Industries Asia Pacific, said: "Ammonia, which consists of hydrogen and nitrogen, is a highly efficient hydrogen carrier and can be directly combusted as a carbon neutral fuel, thereby contributing to the establishment of a robust hydrogen value chain.
"At MHI, we believe that ammonia and hydrogen are key fuels that can help countries meet their net zero goals, and this MoU is an exciting opportunity for us to contribute our technology and expertise to achieve sustainable development in Singapore and subsequently realise the global sustainability agenda."