The French nuclear regulator Autorité de Sûreté Nucléaire (ASN) says that "to ensure the security of the electricity network" it will temporarily modify the strict rules regulating the maximum temperature of cooling water released from some nuclear power plants as the country is in the grips of a summer heatwave.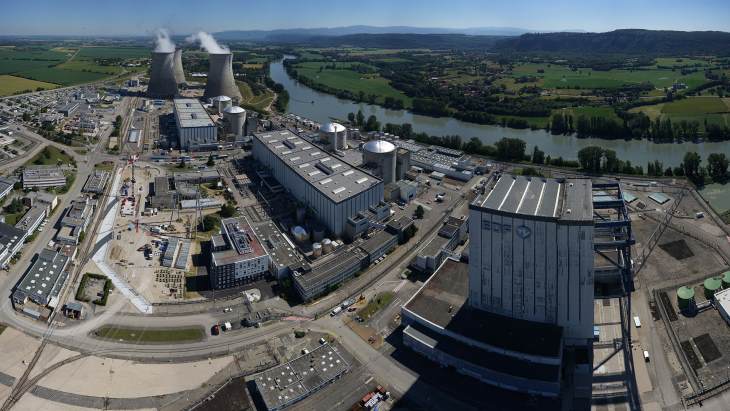 The Bugey nuclear power plant (Image: EDF)

Temporary modifications are now in place for Golfech, Saint Alban and Blayais nuclear power plants, with the newest being adopted for Bugey power plant's unit 2.
The issue surrounds the water taken from a river or the sea to cool nuclear power plant reactors, and what temperature it is at when it is returned to the river or sea. As the water will be hotter when it is returned to a river, there are strict rules about how big a temperature rise there can be, in order to protect fish, other animals and the wider river environment.
The precise situation depends on the reactor. But in general terms, water is either returned directly, which is known as an open circuit, which can lead to general downstream river temperatures increasing several degrees, or the water is returned after cooling in air-cooling towers, known as a closed circuit, which typically leads to lower rises of downstream river temperatures, of a few tenths of a degree.
The temperature of the river around the point of discharge is carefully monitered - if it gets too high a reactor may have to be shut down, as it may be ordered to stop discharging water.
But the current record temperatures being seen in France mean the river temperatures have already risen to a higher than usual level, with ASN saying: "The exceptional climatic and hydraulic conditions encountered this summer led to an unusual rise in the temperature of certain watercourses."
This means that it is judged that discharges will not be possible within the limits of the water temperature rules. But there is a caveat to the rules - if maintaining a power plant at a minimum power "is essential to the saefty of the electrical network, EDF (the nuclear power plant operator) can ask ASN to temporarily modify the requirements governing thermal discharges from the plant, accompanied by a reinforced monitoring programme", and this has now been agreed for the four plants.
ASN said: "EDF's request is acceptable in view of the experience feedback from environmental monitoring specifically carried out during previous heat waves as well as long-term monitoring of the ecosystems concerned."
The temporary change is in place for a short period of time - initially to 24 July. The previous comparable situations were in 2003 and 2006, ASN said.
The issue of rising water temperatures has been on in other countries in Europe, with Beznau in Switzerland also scaling back operations to avoid raising the water temperature too high in its feeder river.