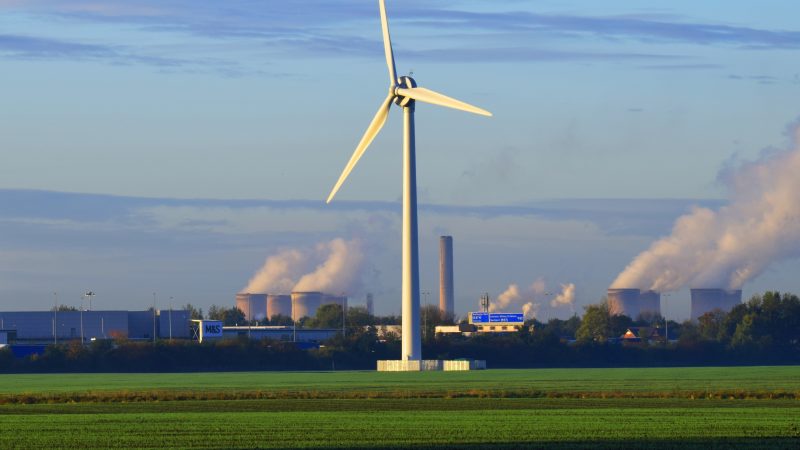 There is a growing mismatch between the EU's climate objectives and the hard realities on the energy front, writes Dimitar Lilkov. [Darren James Photography / Shutterstock]
Brussels is pursuing overambitious and costly decarbonisation policies while national capitals are desperate to guarantee the necessary energy supply and struggle to keep gas storages full and the lights on, writes Dimitar Lilkov.
Dimitar Lilkov is a Senior Research Officer at the Wilfried Martens Centre for European Studies in Brussels.
At first glance, the EU's climate agenda is in full swing. The European Parliament finally reached an internal compromise on the reform of the Emissions Trading System (ETS) and the forthcoming carbon border tax (CBAM).
In parallel, the European Commission (EC) has tabled an ambitious plan for ending the EU's dependence on Russian fossil fuels through a mix of diversification of supply and energy savings. Even the divisive taxonomy on sustainable finance got the final nod.
Take your eyes away from wishful EU communications, however, and you'll find that the situation on the ground is turning sour. European capitals are struggling to cope with one of the most disruptive energy crises in the history of the Union. In less than a year, electricity wholesale prices have doubled and sometimes even tripled across the continent, while gas spot and crude oil prices are reaching record highs.
In a matter of months Italy, Spain, France and Germany have each spent between 30bn and 40bn in order to soften the blow for households and industry. Gazprom has completely cut off or substantially reduced natural gas supplies to at least a dozen EU countries, which makes politicians fret about energy rationing in the winter. Germany has already begun limiting hot water, dimming street lights and appealing to citizens to preserve energy. Boosted imports of LNG from alternative sources are vital, but our own terminal infrastructure and global supply remain limited. In anticipation of an energy disaster, national governments are quietly burning more coal and re-opening dirty power plants across Europe.
There is a growing mismatch between the EU's climate objectives and the hard realities on the energy front. Expect this gap to widen even more as this crunch might last longer than only a few months. True, the EC should stand its ground and try to keep national governments in check so that the long-term transformation of the European economy remains one of our joint priorities.
However, the policy inertia within the Commission and its obsession with easy (and unrealistic) fixes can undermine its credibility as a competent broker on climate and energy. Or perhaps convince us that current policies on climate are designed for fair weather conditions that do not feature post-pandemic economies, an active war and a looming global recession.
Consider the following:
The EC is pushing for increasing the EU-level target for renewables to 45% by 2030. How is this practically possible given that half of the EU member states are still below the 20% mark? Not to mention the fact that 60% of the renewable capacity in the EU actually comes from biomass (i.e., burning wood and crops) rather than solar or wind. Renewables have a good track record in producing clean electricity, but only armchair academics believe that their output can replace fossil fuels in industry, manufacturing or aviation. Renewable energy remains extremely important for our collective European interest but their intermittency, low power density and limited storage properties, unfortunately, limit their positive impact.
The Commission has proposed a joint purchasing mechanism which would negotiate contract gas prices on behalf of participating countries. EC officials are convinced that the successful COVID-19 vaccine procurement programme could be replicated for natural gas. Easier said than done, though. National capitals have long-term bilateral contracts with suppliers and prefer to have the autonomy and flexibility to negotiate on their own. Not surprisingly, there is limited interest from only a few EU member states to be part of such a joint purchasing mechanism.
Worryingly, the Commission's long-term thinking on climate is heavily influenced by Germany`s energy transition (Energiewende). Brussels has also started to follow Berlin's almost religious devotion to the 'Holy Trinity' of renewables, hydrogen and heat pumps. These goals are laudable but remain costly, lengthy to achieve and insufficient to compensate for current fossil fuel infrastructure. After almost 20 years of Energiewende and hundreds of billions of euros spent, Germany has achieved very little actual gains on reducing reliance on dirty sources. Fossil fuels still represent 77% of Germany`s energy supply.
Regrettably, the EU's strategy on climate and energy has become disturbingly bipolar. Brussels will try to hold the line as the global beacon of decarbonisation and pursue overambitious and costly policies. In parallel, national capitals will be desperate to guarantee the necessary energy supply and struggle to keep gas storages full and the lights on.
The EU has an important role in pushing international partners on their own contributions so we can progress on the biggest collective action problem facing the global community. However, Europe remains responsible for less than 7% of the global greenhouse gas emissions, while the rest of the global polluters have been far from reducing their own carbon emissions in the last decade.
The current crisis is an important reminder that peace on the continent and the prosperity of our citizens is the raison d'être of the European Union. At the moment, both are being put to the test. In the near future, Europe has to ensure its energy security without making any concessions to the barbarians in the Kremlin.
Like it or not, expect European politicians to become ruthless on energy and extremely pragmatic on climate.