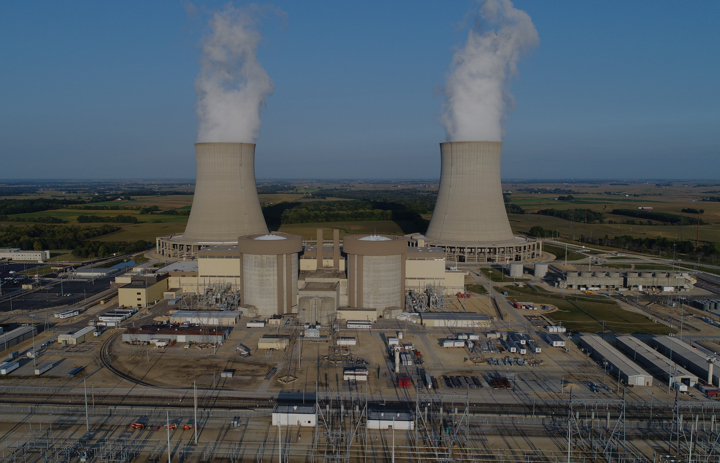 Constellation's Byron Nuclear Generating Station (Source: Constellation).

Constellation and several partners will receive $2.5 million in U.S. Department of Energy (DOE) funding to study direct air capture technology at the company's Byron nuclear plant in northern Illinois.
Although nuclear plants do not produce any carbon emissions, direct air capture would remove CO2 directly from the atmosphere, a possible next-generation technology being explored to help combat the climate crisis.
In the proposed study, a chemical solution would be added to water flowing through the facility's main condenser on the non-nuclear side of the Byron plant. After traveling through the condenser, the water would travel out to the cooling towers, where CO2 in the air would attach itself to the chemical solution and be captured and sequestered. It would then, potentially, be used later in industrial processes that would have net zero emissions, from creating sustainable aviation fuel to beverage industry production.
The study, which is expected to finish in 2023, is designed to take advantage of the flow of clean water vapor from the plant's cooling towers. The partners said it could lead to a nuclear plant becoming a direct air capture hub or inform any future decisions around how and where the technology might be integrated with a nuclear plant.
The study will involve Carbon Engineering's direct air capture technology, which is licensed to 1PointFive. Other partners involved include Worley Group Inc., Pacific Northwest National Laboratory (PNNL) and the University of Illinois Urbana-Champaign.
"We need many new solutions to address the climate crisis and exploring this technology at one of our clean energy centers is a positive step driving us toward a carbon-free future," said Joseph Dominguez, CEO of Constellation.
In August 2021, the DOE announced nine projects researching new methods for direct air carbon would receive $24 million in funding.
The nine awards were led by two national laboratories and seven universities and tackle topics including the discovery of novel materials, chemistries, and processes for extraction of carbon dioxide from air, and combined experimental and computational studies on carbon dioxide capture for sequestration or reuse.
Byron Nuclear Generating Station was commissioned in the 1980s. The plant consists of two Westinghouse pressurized water reactors. Unit 1 is licensed through 2044, and Unit 2 is licensed through 2046.