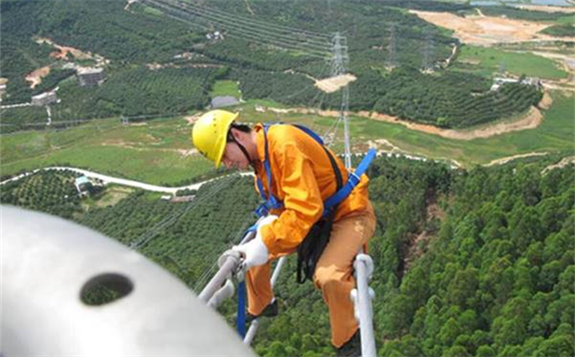 China Southern Grid Electric Power Research Institute (SEPRI), the think tank under China Southern Power Grid, and the Saudi Electricity Co are inching closer to a deal on power system technologies focused on High Voltage Direct Current power transmission (HVDC), power grid operation, and smart grid.
"We are actively working to bring our experiences and advanced technologies to overseas markets to create greater value for the global community, as a part of our overall efforts to enhance ties with other economies involved in the Belt and Road Initiative," said Rao Hong, head of SEPRI.
The move comes close on the heels of a similar cooperation agreement inked by the Chinese think tank with Operador Nacional do Sistema Eletrico (ONS), Brazil's national grid operator, last June. Under the agreement, SEPRI has offered two technical training sessions for ONS staff on HVDC technology, in last November and this April respectively.
Technical communications between SEPRI and power grid developers from other countries have marked a further step in China Southern Power Grid's increasing overseas presence. Headquartered in Guangzhou, Guangdong province, the company is one of the country's leading electricity transmitters and also South China's major power grid builder.
In August 2018, the company inked a power grid development deal with Electricite du Laos and the central government of the Asian country.
To date, the grid operator has forged connections with grids in Laos, Vietnam, Myanmar, and other Southeast Asian countries to ease power shortage pressures.
"China Southern Power Grid can leverage its VSC-HVDC technology to guarantee more stable water, wind, or solar power transmission in countries like Saudi Arabia and Laos, where there are abundant natural resources," said Han Xiaoping, chief researcher at china5e.com.
He explained that new energy power transmission can be challenging as they are less stable compared with power generated from burning fossil fuels, but VSC-HVDC technology can largely avoid the problem.
"China's advances in HVDC is likely to play a larger role in promoting clean energy transmission in BRI countries," Han said.
Compared with the more common alternating current (AC) systems, HVDC can help reduce transmission loss - the loss of power while passing through transmission lines save construction costs, and offer more stable power supply.
The world's first 800kV Ultra High Voltage Direct Current power transmission project, was developed by the company for more stable transmission, and higher power capacity, compared with 500kV HVDC project.
Up to now, China Southern Power Grid has developed 10 HVDC projects for cross-provincial power transmission, and three of them are 800kV UHVDC, taking up over 20 percent of the country's total 14 such lines.
The HVDC, together with the alternating current systems, are used to transmit clean energy generated from Guangxi Zhuang autonomous region, Guizhou province, and Yunnan province, where there are abundant water and wind resources, to South China's Guangdong-Hong Kong-Macao Greater Bay Area where there is a huge demand for electricity, which was largely reliant on fossil fuels.
The company transmitted 217.5 billion kWh of electricity in 2018, up 7.2 percent from the same period in 2017. It saved about 15 million metric tons of standard coal consumption in the areas it covered, and reduced emissions including 40 million tons of carbon-dioxide and 300,000 tons of sulfur dioxide, according to the company.