The Chinese foreign minister has expressed his country's readiness to expand cooperation with Turkmenistan in various energy sectors.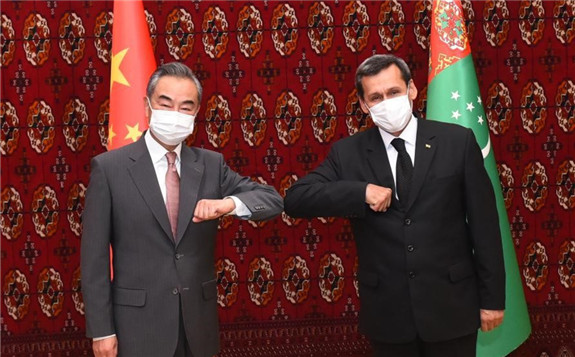 "Together with Turkmenistan, China is willing to expand cooperation in energy and other spheres, to speed up the alignment of Belt and Road Initiative with Turkmenistan's development strategy to revive the Great Silk Road", Chinese State Councilor and Foreign Minister Wang Yi said during talks with Turkmen Deputy Prime Minister and Foreign Minister Rashid Meredow on July 12.
Wang said that China and Turkmenistan seek to boost ties in natural gas sector with the aim of solving existing problems and increasing cooperation in oil and gas processing, new energy, green energy, nuclear energy so that the two countries can forge a long-term strategic partnership in the energy sector.
The Chinese minister, who visited the Turkmen capital Ashgabat on an official trip on July 12-13, said that "China sees Turkmenistan as a truly reliable strategic partner", and suggested exploring other potential areas of cooperation such as digital economy and cross-border e-commerce, production capacity, agriculture and sci-tech, in addition to establishing an interconnected network.
China is ready to step up cooperation with Turkmenistan in traditional and non-traditional security fields and help the country safeguard its national security, Wang added.
For his turn, the top Turkmen diplomat said that Turkmenistan is also willing to expand cooperation in the fields of pandemic response, oil and gas, renewable energy, non-natural resources, biosecurity and information security, combat against terrorism, and strengthen cooperation in environmental protection, aviation and telecommunications.
The two foreign ministers agreed to negotiate and sign documents for cooperation under the Belt and Road Initiative as soon as possible, formulate a five-year plan for cooperation and a plan for expanding partnership in the economy, facilitate the negotiation on natural gas cooperation to achieve substantive progress as soon as possible, and ink international road transport agreements and pacts in other areas.
Upon completion of the meeting, Rashid Meredow and Wang Yi signed the Plan of Cooperation between the Ministries of Foreign Affairs of Turkmenistan and the People's Republic of China for 2021-2022.
In early June, Turkmenistan announced that it has now fully repaid the Chinese credit it took out to finance its part in building the Turkmenistan-China gas pipeline and development of its Galkynysh gas field, which is the world's second-largest field of its kind.
During a visit to Turkmenistan in 2011, China Development Bank's then-president Jiang Chaoliang said that the bank had loaned Turkmenistan $8.1 billion for the projects. Some experts have estimated that the debt may have been closer to $10 billion.
The pipeline known as the Central Asia-China pipeline began deliveries in late 2009. The 3,666 km long pipeline begins in eastern Turkmenistan and reaches China via Uzbekistan and Kazakhstan.
Turkmenistan's gas exports to China exceed 30 billion cubic meters (bcm) per year, which is six or seven times more than gas exported to its next major customer, Russia. Totally, hydrocarbons account for over 90 percent of Turkmenistan's exports.
Since the pipeline opened in 2009, China has imported over 240 bcm of natural gas from Turkmenistan, supplies that account for over 70 percent of China's piped gas imports. In 2018, China and Turkmenistan were involved in a dispute over the price and supplies of the resource, prompting Turkmenistan to dramatically cut flows to China. However, the volume of gas exports gradually recovered the next year. In 2019, Turkmenistan sold Beijing over 30 bcm of natural gas, with Uzbekistan and Kazakhstan each selling 10 bcm.