Prime Minister Mia Mottley has defended Barbados' plans to resume fossil fuel exploration off its coast, saying that developing nations deserved "equity" and needed the revenue from oil and gas sales to finance the shift to clean energy.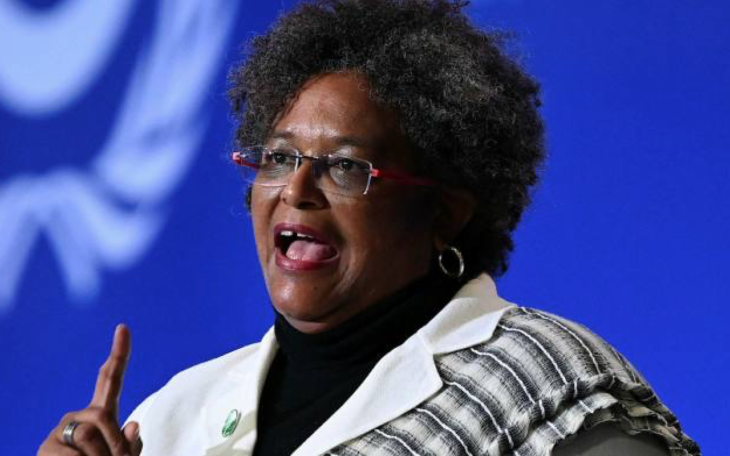 Net zero emissions "doesn't mean zero fossil fuels," though "all of us agree that there has to be a significant decline in production," said Mottley, speaking at a Financial Times climate conference on Tuesday.
Developing countries needed "a way to finance our route to net zero", and if the wealthy nations that "caused the problems" would not provide funding, they would need to find other ways to generate revenue, such as exporting fossil fuels, she said, according to the Financial Times.
"There has to be equity," the Barbadian leader insisted.
Mottley delivered a rousing speech at last year's COP26 international climate summit in Glasgow, at which she told wealthy countries to "try harder" to tackle global warming, which would be a "death sentence" for island nations if temperatures continued to climb.
She and leaders from other small island states have stressed the need for developed countries to help poorer and indebted nations cope with and adapt to the effects of climate change. Mottley reiterated that call on Tuesday, saying negotiators worldwide must "deal with the moral issue and recognise that this climate crisis requires climate justice".
Large polluters should "compensate" countries that were suffering from climate change but had done little to cause it, she added. But she also defended the rights of developing countries such as Barbados to extract and export fossil fuels, given that their use would not end entirely even if global net zero emissions goals were met.
In 2020, Barbados granted hydrocarbon exploration licences to BHP, and the company plans to conduct surveys in two regions in search of petroleum reserves. The activities were interrupted soon after by pandemic restrictions on travel but have since resumed.
Reflecting on the outcomes of COP26, Mottley said on Tuesday that the UN summit had been successful in raising awareness of the plight of small island states and the risks associated with runaway climate change. But the negotiations had faltered when it came to "the whole question of finance".
"For adaptation countries like my own and other small island states that are heavily indebted . . . our ability to carry that cost that we now have to undertake for adaptation is simply not there," she said.
"Regrettably, in the international community battles take long to win," she added. "People are paying the price with their lives and their livelihoods while we try to settle these matters in an agreeable manner."