A rig, which is destined to work on a drilling campaign offshore Kuwait, is preparing for its assignment at a Chinese yard. The rig is slated to depart for Kuwait in two months.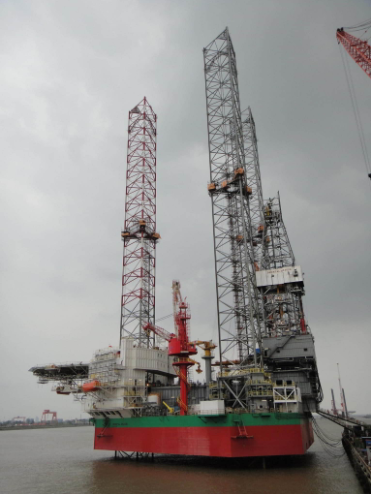 Oriental Dragon jack-up rig; Source: Saga Drilling
Scana-owned PSW Technology revealed on Friday, 14 April 2023, that it had signed a Master Purchase Agreement with Halliburton. Some of PSW Technology's tasks as project manager is to ensure that COSL's Oriental Dragon rig meets the requirements for its drilling job in Kuwait both technically and operationally.
The company is in charge of the mobilisation of the Oriental Dragon rig from You Lina shipyard in China to Halliburton in Kuwait in addition to follow up, verification and reporting of all workstream deadlines. According to the firm, the rig arrived at the shipyard in mid-February where it will be going through rig modifications and recertification of equipment.
Upon completion, the rig is expected to leave the yard in mid-June to be transported to Kuwait where it will kick off a three-year contract with Kuwait Oil Company (KOC), an affiliate of Kuwait Petroleum Corporation (KPC).
Geir Knapskog, PSW Technology's managing director, remarked: "This is yet another important project in our focus area internationally, where we are in the process of building up a strong competence to support rig companies where the activities take place."
The 2017-built Oriental Dragon rig is a Friede Goldman JU2000E design jack-up, which was constructed at China Merchant Heavy Industries (CMHI). Back in 2015, Saga Drilling was hired to prepare the rig for operation and undertake future management of the rig. Afterwards, the rig carried out drilling operations in Chinese waters.
As a reminder, KOC inked an offshore drilling services contract in July 2019 with the U.S. oilfield services giant, Halliburton. Under the terms of the deal, the U.S. giant was expected to provide and manage drilling, fluids, wireline and perforating, well testing, coring, cementing, coiled tubing, and all offshore logistical services.
In addition, Halliburton said it would provide two offshore rigs and supply vessels for the project, which would operate in the Arabian Gulf within Kuwait's territorial waters. At that time, the expected start date for the first rig was in July 2020 while the second rig was due in January 2021.
However, the timeline changed since the drilling campaign run into delays. As a result, Kuwait was on the verge of starting its first offshore drilling activities in 2022, three years after signing the deal with Halliburton, as explained by the CEO of the KPC, Sheikh Nawaf Saud Al-Sabah, during the Qatar Economic Forum last year.