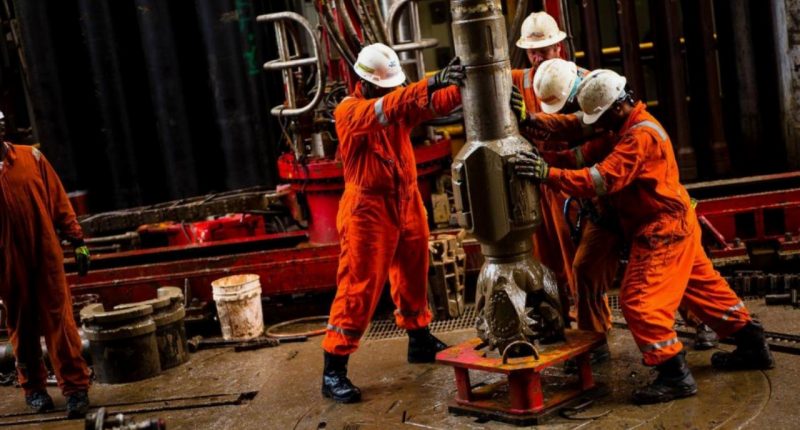 Crew working an offshore drill rig. Source: TotalEnergies.
TotalEnergies has made an oil discovery "on trend" from Pancontinental Energy's (PCL) PEL 87 area in offshore Namibia, making shares in the company soar by up to almost 40 per cent in early morning trade.

The light oil discovery was made in the Venus-1X well, which was drilled to a total depth of 84 metres in a water depth of about 3,000 metres.
The well is reported to have net pay of about 84 metres with some associated gas in good quality reservoir.
This is the second discovery in the area, with Shell making an earlier discovery in the Graff-1 exploration well.
The two discoveries are reportedly "on trend" to Pancontinental's 75 per cent owned PEL 87 licence.
The PEL 87 licence covers an area of 10,970 square kilometres in water depths of 500 metres to 3000 metres, making the company the second-largest net acreage holder in the region.
PEL 87 holds a large Saturn turbidite complex, which shares many prospective characteristics to the Venus prospect.
The core of Saturn covers 2,400 square kilometres with thickness of about 280 metres.
However, Saturn has less water depth than Graff and Venus.
The company has been given a 12-month extension on the Initial Exploration Period of the PEL 87 licence, subject to formalising necessary documentation.
This licence can be extended with two additional two year periods.
Technical Director Barry Rushworth said he is pleased with the discovery due to its similarities with the company's Saturn turbidite complex.
"Pancontinental's Saturn turbidite complex in PEL 87 is similar to Venus because it has the same age and depositional character, the same mature oil source rocks and regional seal at about the same depth below the sea floor," he said.
"Saturn is much larger in area, with the potential for greater oil volumes.
"Post-discovery prospective oil volume information has not yet been released by the discovery consortia however we are highly encouraged by the Venus-1 details reported so far, and Shell's immediate appraisal well on Graff.
"Things are happening quickly and Pancontinental is very pleased to have its strategy and perseverance validated, and to be a significant part of this exciting new oil play."
Shares have soared 37.5 per cent higher today to 0.6 cents each at 11:25 am AEDT.