The Volgodonsk branch of AEM-Technologies (part Rosatom's mechanical engineering division Atomenergomash) has started assembling the upper half-shell of the VVER-1000 pressurised water reactor for power unit 5 of India's Kudankulam nuclear poewr plant.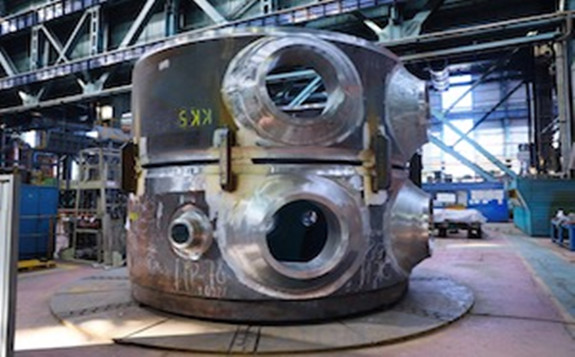 The plant's specialists have connected two shells of the branch pipe zone; a flange is to be installed. When assembling the half-body, the gap between the parts is only 1mm. The weight of the VVER-1000 upper half-casing is 169 tons, the height is about 5 metres, and the diameter is 4.5 metres. After installing all the elements, the product will be moved to the welding stand with the help of a crane, where welding of two circumferential seams will begin. Welding under heating is carried out at a temperature of 150-300 degrees.

The reactor pressure vessel (RPV) is a vertical cylindrical body with an elliptical bottom, inside which the core and internals are located. From above, it is hermetically sealed with a lid with installed drives of mechanisms and controls and protection of reactors and nozzles for outputting cables of sensors for in-reactor control. In the upper part of the body there are nozzles for supplying and removing the coolant, as well as nozzles for emergency supply of the coolant when the circuit is depressurised.

Kudankulam NPP with Russian-supplied VVER-1000 power units, located in the Indian state of Tamil Nadu. Unit 1 has been operating steadily at the installed capacity of 1000MW since February 2016. Unit 2 was included in the national power grid of India in August 2016. A General Framework Agreement with Rosatom on the construction of the third and fourth power units was signed in 2014, and in June 2017, the Engineering Division of Rosatom and the Indian Atomic Energy Corporation signed an agreement on the construction of the third stage (units 5&6).