Belgian engineering firm Tractebel and Canadian engineering, project management, and professional services firm Hatch have agreed to cooperate on supporting the deployment of small and large nuclear technologies in North America and Europe.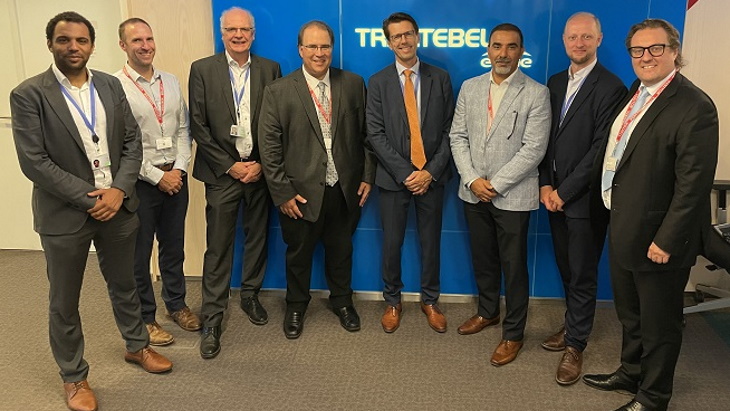 From left to right: Anicet Touré, Head of Strategy, Nuclear (Tractebel), Dan Kell, Senior Director - Power Transmission & Integration (Hatch), Philippe Van Troeye, CEO (Tractebel), Jim Sarvinis, Managing Director - Power (Hatch), Denis Dumont, Chief Global Nuclear Officer (Tractebel), Adel Muna, Director of Power - Europe (Hatch), Arnaud Rahier, Chief Operating Officer, Canada (Tractebel), Alain Masuy, Advisory Lead, Europe (Hatch) (Image: Tractebel)
By collaborating, the two companies aim to provide "invaluable expertise" in the field of nuclear engineering and consultancy for nuclear projects. "This will ensure continuity in the expert teams that will work on nuclear new build projects in North America and Europe, which was identified as a key success factor by nuclear technology developers," the partners said.
Tractebel has over 60 years of nuclear engineering experience in Europe and now globally throughout the entire life cycle of nuclear installations, from design to decommissioning, as well as in industrial applications. Tractebel - a subsidiary of France's Engie - has been collaborating with EDF on the Nuward small modular reactor (SMR) project since 2021.
Hatch offers engineering, consulting, and technology and equipment design, including first-of-a-kind development in the nuclear sector and covers the entire life cycle of nuclear installations from mining, fuel development, new build, operation, decommissioning and waste management. The company has been involved in supporting the development and evaluation of SMRs for on-grid or off-grid power since 2012. It is working with SMR vendors, utilities, heavy industry, industry regulators, and governments to support their development, licensing and implementation.
"Hatch and Tractebel's cooperation will be crucial to the construction of new nuclear assets," said Denis Dumont, Tractebel's chief global nuclear officer. "We are honoured to cooperate with Hatch, a company that has strong roots in the North American industrial market and experience in the nuclear sector. Tractebel will bring its international nuclear new build and design authority experience to the alliance. We believe that by summoning up our strengths, we can build bridges between the North American and European energy ecosystems."
"We are proud to collaborate with Tractebel, which has cutting-edge expertise in nuclear engineering and a thorough knowledge of the European nuclear and industrial market," added Amar Jolly, Global Director Nuclear, Hatch. "We will bring our strong nuclear systems, equipment design and waste management experience as well as our deep knowledge of the industries that are likely to implement SMRs to the collaboration. We believe that nuclear will be instrumental in the energy transformation and in achieving our global net-zero goals, including the decarbonisation of heavy industries."
In June 2022, ARC Clean Energy Canada announced it was teaming up with Hatch for the deployment of ARC Canada's advanced SMR technology, which is planned for deployment in New Brunswick before the end of the decade. Hatch will use its engineering technology and capabilities to design ARC Canada's power plants in a fully digital format, with a focus on modular design to maximise factory production and scalability, minimising on-site construction time. Hatch is also playing a key role in the integration of ARC Canada's advanced technology for heavy industry using high-quality process heat which includes the optimisation of the technology for clean hydrogen and ammonia production.