Nuclear industry organisations from around the world have today published a report highlighting the contributions made by nuclear towards achieving the United Nations' Sustainable Development Goals (SDGs). The report notes nuclear contributes to each of the 17 goals.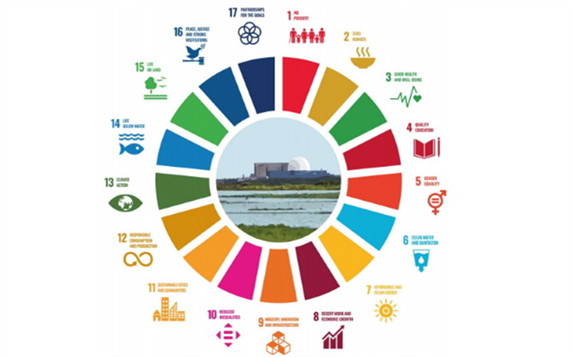 In 2015, all UN Member States adopted the 2030 Agenda for Sustainable Development and its 17 Sustainable Development Goals. These provide a universal set of goals, targets and indicators against which nations will be expected to frame policies over the next 15 years. The goals recognise that ending poverty and other deprivations must go hand-in-hand with improving health and education, reducing inequality, and spurring economic growth - all while tackling climate change and protecting the environment.
The new report - titled Nuclear's contribution to achieving the UN Sustainable Development Goals - was produced through collaboration by the Canadian Nuclear Association (CNA), European nuclear trade body Foratom, the Japan Atomic Industrial Forum (JAIF), the Nuclear Energy Institute (NEI), the Nuclear Industry Association (NIA) and World Nuclear Association.
It highlights how nuclear technologies contribute to addressing issues such as eliminating hunger, improving health, providing access to affordable and clean energy, generating decent work and economic growth, and mobilising climate action.
"Nuclear energy provides the clean, on-demand affordable electricity needed to meet the world's growing energy demands, while fulfilling the climate objectives of the Paris Agreement," said World Nuclear Association Director General Sama Bilbao y León. "But nuclear technologies do so much more! The planet and humanity are much better off because of the many nuclear contributions to achieving each of the 17 UN Sustainable Development Goals."