Chinese cities have been warned there could be power outages ahead as the system strains under increased demand from the pandemic recovery and extreme summer heat.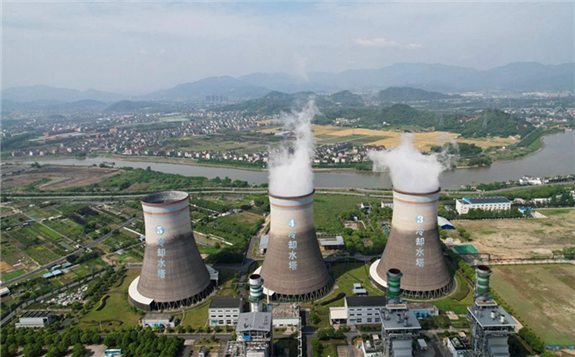 It comes as power consumption hit an all-time high on Wednesday last week – up more than 10 per cent from last summer's record, according to the State Grid Corporation of China.Eleven provinces – including manufacturing hubs Zhejiang, Jiangsu and Guangdong – saw record peak-load surges last week, the State Grid said on Sunday."It's mainly due to the [hot] weather and the rapid economic growth," said Zhu Weijiang, deputy director of the State Grid's National Electric Power Dispatching and Control Centre.China was the first major economy to recover from the Covid-19 pandemic, recording 12.7 per cent growth in the first half of 2021
from a year ago, according to the National Bureau of Statistics. That growth was partly driven by strong export demand – exports in dollar terms rose 32.2 per cent in June from a year ago, after they jumped 27.9 per cent in May.
But the economic rebound, combined with soaring temperatures, is putting China's power grids under pressure. Some governments have warned there could be disruptions, with some taking measures like rationing power and suspending production in a bid to avoid outages.
In southern export hub Guangdong, factory owners were told in May that they would have to halt production during peak demand periods for two to three days a week.Authorities in the eastern city of Hangzhou, Zhejiang said early this month there could be supply shortages, with electricity demand expected to jump 7.7 per cent over summer compared to a year ago.Residents and businesses were told to prepare for blackouts since the city sources 80 per cent of its power from other regions, and major users will be asked to reduce consumption until September.
In the northwestern city of Xian, Shaanxi, the power went out twice last week.
"We had power outages for two days, from 6pm to 10pm on July 13 and from 9pm to 11pm on July 14," one resident told local media. "There was no elevator and no water."Local authorities have also responded by turning on more power generators, mostly thermal.
In the first six months, coal and gas-fired power generation – which together accounted for 70 per cent of China's power output – increased 15 per cent from a year ago.
State planner the National Development and Reform Commission on Sunday told major power plants to keep at least seven days of coal supply in reserve to keep the system stable, news site Jiemian reported.
For the central province of Hunan, which had power outages over winter, the answer is to build more coal-fired power plants – it plans four more in the next five years, with more to come.But Yang Fuqiang, a researcher with Peking University's Institute of Energy, said that was not the solution.
"China had 1,080 gigawatts of coal power capacity as of 2020 and another 130GW has been proposed, which will go into operation in one to two years," Yang said."Power outages usually don't last that long – the problem should be resolved by better use of 'demand response' and improving energy efficiency."
Demand response involves compensating customers for voluntarily reducing their electricity use so that power generators can better align demand and supply. Hunan and Hubei provinces will offer demand response for the first time this summer."China should also add more gas-fired power generation and energy storage to make the power grid more flexible," Yang said.