The Korea Chamber of Commerce and Industry and the Ministry of Trade, Industry and Energy held their second economic and trade forum with Visegrád Four (Czechia, Hungary, Poland and Slovakia) on Feb. 25 to discuss mutual cooperation in the fields including renewable energy and carbon neutrality. The first forum took place four months ago.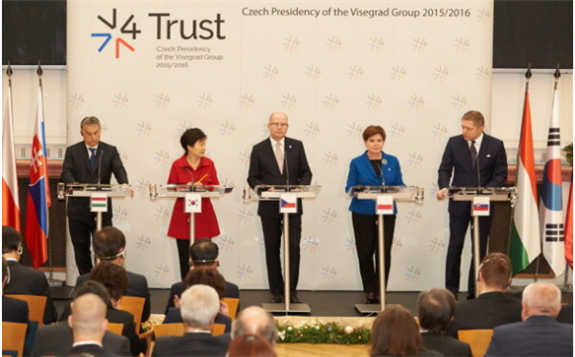 "We need to focus more on the global green trend in order to further our economic cooperation," South Korean Trade Minister Yoo Myung-hee said at the forum, adding, "The scope of cooperation is unlimited in view of the five countries' green environment policies."
The forum was attended by multiple South Korean companies doing business in the four countries, including Samsung SDI, LG Energy Solution, Samsung Electronics, Hyundai Motor Group, Hyosung Advanced Materials, POSCO and Doosan Bobcat, as well as Polish Ambassador to South Korea Piotr Ostaszewski, Hungarian Ambassador to South Korea Mozes Csoma, Slovak Ambassador to South Korea Jan Kuderjavy and Czech Ambassador to South Korea Gustav Slamečka.
"South Korean companies are expanding their secondary battery manufacturing facilities in Eastern Europe and are expected to participate in nuclear power plant construction in the Czech Republic and Poland, which means even more cooperation is anticipated between South Korea and Visegrád Four," the Korea Chamber of Commerce and Industry remarked, adding, "Also, cooperation with Eastern Europe in the hydrogen economy is expected to evolve into new standards to cover the entire European continent."
This article is reproduced at www.businesskorea.co.kr