New Brunswick Premier Blaine Higgs has announced a further CAD20 million (USD16 million) of funding towards the next phase of small modular reactor (SMR) development in the province. The province is partnering with ARC Clean Energy Canada Inc, which is developing the ARC-100 advanced SMR.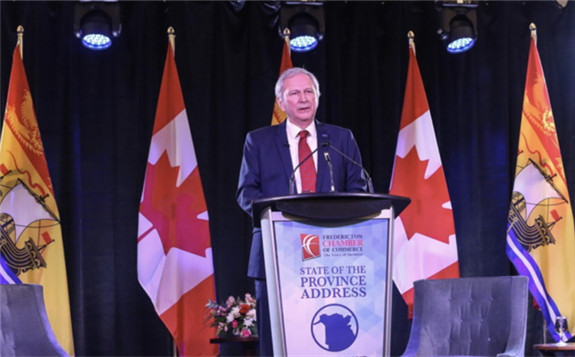 Blaine Higgs delivered the 2021 State of the Province address at the Delta Hotel Fredericton (Image: ARC Canada)
In his State of the Province Address yesterday, Higgs said the government of New Brunswick is making "steady progress" in its SMR strategy. In 2019, the province joined Ontario and Saskatchewan in a Memorandum of Understanding to advance the development and deployment of SMRs, and last year ARC, New Brunswick Power and Moltex Energy agreed to set up a SMR vendor cluster in the province.

"We are leaders in this world-wide initiative and it is a game-changer for our province - and at a time when it's needed most. That is why our government will invest to support the development of this sector. I am announcing today a CAD20 million investment in our clean-energy technology which will unlock significant private sector investment. I am also pleased to acknowledge the continued cooperation and support from the federal government as we look at SMR clusters here in New Brunswick," he said.

The investment would not only support the development of local expertise, but also contribute to the creation of a "critical mass" to attract "talent" and enable other businesses to grow, he said. "We have an underutilised supply chain, with existing industrial and mechanical businesses right across this province, and we could activate and participate in a worldwide SMR market and bring that revenue back to New Brunswick. That's what this opportunity means to us," he said.

The CAD20 million being provided by New Brunswick is conditional on ARC Canada providing CAD30 million of matching funds which company chairman Donald Wolf said it intends to obtain this from private investors. "This funding milestone will play an integral role in the deployment of our proven, inherently safe clean energy technology in the late 2020s," Wolf added.

The announcement also "officially marks" the start of the next phase of the Canada Nuclear Safety Commission's vendor design review of the ARC-100, ARC Canada President and CEO Norman Sawyer said. "We continue to march towards the ultimate goal, the deployment in New Brunswick of reliable, inherently safe and low-cost clean energy technology that can deal with waste, with its New Brunswick focused manufacturing and supply chain development," he added.

The ARC-100 is a 100 MWe advanced sodium-cooled fast neutron SMR. It has been selected by New Brunswick Power for implementation at its existing nuclear power plant site at Point Lepreau.