The four nuclear power units under construction in Turkey will be commissioned one per year between 2023 and 2026, Anastasia Zoteeva, CEO of the Akkuyu Nükleer AS project company, said in a television interview with Bloomberg HT on 8 February. Zoteeva also said the Rosatom majority-owned company was open to talks with potential investors in the project, for which it has a power purchase agreement for the first 15 years of each unit's operation.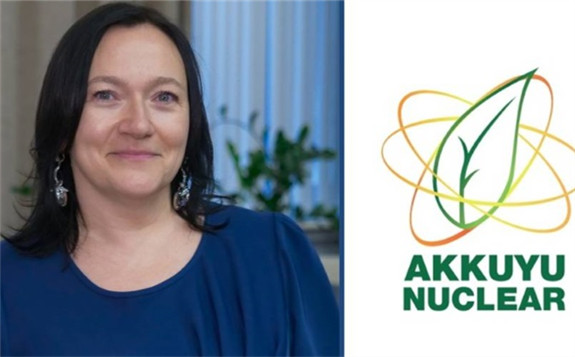 Russia and Turkey signed an intergovernmental agreement in May 2010 for the construction of the Akkuyu nuclear power plant on the southern coast of Turkey in Mersin province, which will comprise four VVER-1200 reactors with a total capacity of 4800 MW. Under the terms of the agreement, Rosatom established a project company in Turkey, Akkuyu Nükleer. The project is the first to use Rosatom's build-own-operate (BOO) model. Under a long-term contract, Akkuyu Nükleer is responsible for plant's design, construction, maintenance, operation and decommissioning.

Rosatom has a 99.2% stake in the project, the cost of which it estimates will be USD20 billion.

Zoteeva said the aim is to commission the first unit on 29 October 2023 - the 100th anniversary of the founding of the Republic of Turkey - with the other three units to follow by 2026, adding that she hopes the construction licence for the fourth unit will be granted this summer. Within 10-12 years, Turkish personnel will have replaced Russian personnel at the plant, she said.

Turkey's first nuclear power plant, Akkuyu will give the country access to stable electricity supply at "predictable" prices, boosting its economy, she said. The inclusion of Turkish manufacturers in the project prepares the country to take over eventually the management of the plant, she said. To date, 143 Turkish students have graduated from the Russian Institute of Nuclear Physics and they are now employed on the Akkuyu project, she said. The fact that nuclear plants have an operating life of least 60 years means that future generations of Turks will be able to become nuclear physicists. "Another 50-60 more graduates will join the project this year, but such training should not stay in Russia, and so we're working together for training to be in Turkey."

"We ought to bear in mind that this will increase the intellectual potential of the country," she said. "For example, in Russia, about 10,000 people find employment from living near a nuclear power plant … In fact, there is a whole city of 30,000 people living around the Novovoronezh nuclear power plant, which was built in 1964. Can you imagine that? It's a privilege for me to see how the [Akkuyu] project develops, how it grows. It's an honour for me to see people interacting with such megaprojects. It's really good for both countries."

Construction work at the Akkuyu site has not been interrupted by the pandemic, she said. "Even in the most challenging situations, we managed to get people to their workplaces. Even from Russia, we were able to get our engineers to fly in when they needed to install equipment. Special permission is always required for this, both from the Russian and Turkish governments, and so we feel we have support from all sides. And not even an hour of work has been lost."

She thanked the Turkish nuclear regulator for its help to ensure the delivery and inspection of equipment could go ahead as planned. "We received four steam generators last year for our first unit, and it's going to be built this year. So everything's going well. Our manufacturers in Russia never stopped production during the pandemic and they were able to do everything to meet the project's schedule. Likewise, the manufacturers of the turbine islands are continuing their work in France, and we plan to collect those in August."

There are 8000 people working at the construction site and 80% of them are Turkish citizens. This will rise to about 12,000 during the peak of construction, she said. When the plant enters operation, about 4000 people will work there and within 12 years all of them will be from Turkey, she added.

Akkuyu Nükleer's supply chain consists of more than 400 companies, most of which are local. The main contractor is a joint venture between Russia's Titan-2 and Turkey's IC Holding. Localisation of work on the project is worth about USD5 billion to Turkish manufacturing companies, including suppliers of metal bars, cables and pipes, which have all been qualified to nuclear-grade standards, she said.

Asked about bringing new partners into the project, Zoteeva said: "We can meet with anyone for partnership in Akkuyu, but we must examine it carefully … because it would need the approval of Turkey's Ministry of Treasury and Finance, as stipulated in our intergovernmental agreement."

The power purchase guarantee in the BOO contract "will help us get our money back as investors", she said, but that model "isn't black and white".

"This is something that can only apply to the first 15 years and at a rate of 70%, with sales to the market of 30%. That only applies to the first two units. For unit 3 and 4, it's going to be the other way around - a purchase guarantee of 30% and 70% sold to the market. Of course, it's something that can help us get our money back as an investor, so we can pay off our loans. And for Turkey, after a period of 15 years, all electricity produced by all the units will be sold at market prices."