Demand growth is more uncertain than during the SARS outbreak.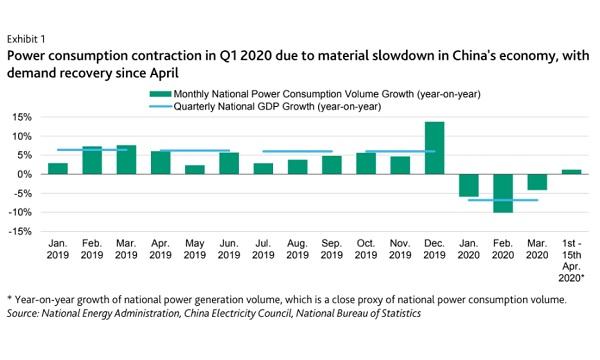 China's power demand growth is tipped to remain flat in 2020 before improving slightly in 2021, as weak export growth amidst a global recession is expected to weigh heavily on power consumption, according to a report by Moody's Investors Service.
This is underpinned by a projection of 1% GDP growth for the country in 2020, significantly lower than the 6.1% in 2019. This is expected to speed back up to 7.1% in 2021, partially reflecting a revival in demand from China's trading partners.
Disruptions caused by the pandemic, as well as the material slowdown in China's economy are expected to cause a sluggish power demand in the country in 2020. Already, power consumption fell 6.5% YoY in Q1.
However, growth has recovered recently as economic activity gradually resumed after the lifting of nationwide lockdowns. National power generation volume grew 1.2% YoY in the first half of April, compared to the 4.6% and 8.2% declines in March and February, respectively.
However, power demand growth could enter negative territory if the global economic recovery is delayed or is far weaker than expected because the spread of coronavirus is not effectively contained globally and restrictions on business activity do not ease.
"The uncertainty over power demand is far greater when compared to previous downcycles, such as in 2003 during the SARS outbreak, in 2008-2009 during the global financial crisis and in 2015 during economic rebalancing. It is because GDP growth was in the range of mid-single digit to low teens during these periods, and economic recovery prospects now are less certain," the report stated.
In particular, grid companies' Q1 results saw its revenue reduced significantly but fixed overheads remained high. However, an extension of tariff cuts to support the slowing economy will put further pressure on their profitability.
In February, the government announced a reduction in retail tariffs for commercial and industrial users, except for energy intensive users, by 5% from 1 February to 30 June. However, the next tariff cut may not be fully borne by gridcos like previously.
"We expect the government to push for market-based power sales in the coal-fired generation market given the current low coal price environment. This would translate into an ultimate reduction of retail tariffs," the report added.
Weak power consumption is also expected to hit coal-fired power utilisation hours. This will dent power generation volume and cash flow, resulting in higher leverage for coal-fired generation companies.
On the other hand, renewable energy companies may unlikely be affected by the weak power demand due to their priority dispatch. The utilisation hours of wind and solar power remained largely stable in Q1, whereas thermal utilisation hours fell 12.7%.