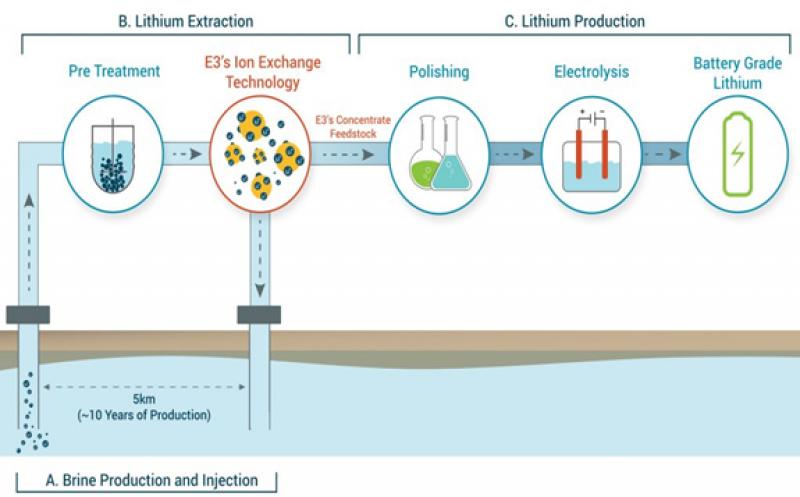 Canadian lithium development company E3 Metals Corp has started work on scaling up of its proprietary lithium extraction process with collected brine from E3 Metals' Lithium Project in the Province of Alberta, Canada.
Canadian E3 METALS CORP. has announced it has collected a large volume of lithium-enriched brine from the Leduc Reservoir in the Central Clearwater Resource Area (CCRA) of its Alberta Lithium Project. This 20,000 L brine sample is the largest collected to date and is required to support the continued testing and scale up of E3 Metals' proprietary direct lithium extraction (DLE) process over the next 12 months.
Brine collection was completed last week with assistance from a local oil and gas operator with whom E3 Metals has been actively collaborating since 2017. "E3 Metals has been working with the oil and gas industry throughout our project development to date," stated E3 Metals CEO, Chris Doornbos. "Leduc Formation brine is a byproduct to the oil and gas industry in Alberta and E3 Metals sees tremendous value in this lithium-enriched brine through the planned commercialization of its proprietary DLE process. The brine will be utilized as part of our ongoing technology scale-up program under the Joint Development Agreement with Livent Corporation."
E3 Metals is a lithium development company with 6.7 million tonnes lithium carbonate equivalent (LCE) inferred mineral resources1 in Alberta. E3 Metals is currently advancing its proprietary ion exchange direct lithium extraction (DLE) process in partnership with Livent Corporation under a Joint Development Agreement. Livent is the world's largest pure-play lithium producer, well-known for being one of the lowest cost producers of lithium carbonate. With facilities across the globe, Livent holds technical expertise in the extraction and production of various lithium products. E3 Metals also continues to work with partners at the University of Alberta and at GreenCentre Canada.
Through the successful scale up its DLE process towards commercialization, E3 Metals plans to quickly move towards the production of high purity, battery grade, lithium products. With a significant lithium resource and innovative technology solutions, E3 Metals has the potential to deliver lithium to market from one of the best jurisdictions in the world. The development of this lithium resource through brine production is a well-understood venture in Alberta, where this brine is currently being produced to surface through an extensive existing oil and gas infrastructure and development.