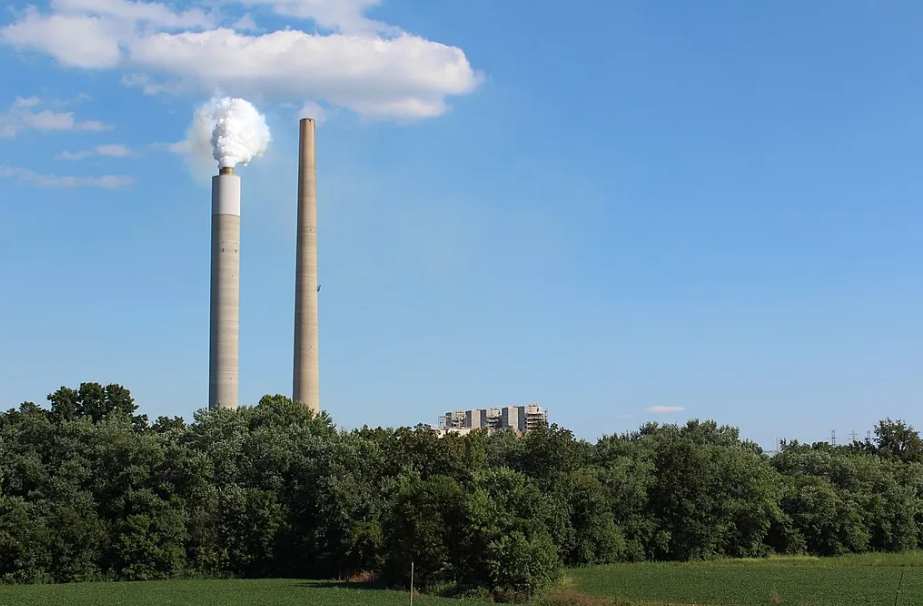 (The Kyger Creek coal plant in southern Ohio. Credit: Creative Commons)
From Energy News Network
A share of $9.7 billion in funding under the Inflation Reduction Act can help Ohio's rural electric cooperatives save money while cutting greenhouse gas emissions.
Buckeye Power, which provides generation and transmission services for the group's 25 rural electric cooperative members, "has more exposure to coal" than any comparable group in the United States, said Neil Waggoner, federal deputy director for energy campaigns for the Sierra Club, so the IRA funding is an especially huge opportunity.
The U.S. Department of Agriculture's New Empowering Rural America program is accepting notices of intent to apply for up to $970 million in funding for projects to cut greenhouse gas emissions and add renewable energy. Funding can include grants of up to 25% of project costs, as well as low- or no-interest loans.
The notices are due by Sept. 15. Full applications would follow later in the fall.
"We are aware of and actively working on a proposal for the USDA New ERA program but do not have anything to report publicly until the application is complete," said Caryn Whitney, director of communications for Ohio's Electric Cooperatives, referring to both the cooperative organization and Buckeye Power. The New ERA program is part of the IRA.
Saving money
Environmental groups' analyses suggest the member cooperatives' 380,000 residential and business customers could see big savings if Buckeye Power replaces some or all of its coal-fired generation with renewables and storage.
Most of Buckeye Power's current generation mix comes from the 1.8-gigawatt coal-fired Cardinal Power Plant in Brilliant, Ohio. Units 1 and 2 at the Cardinal plant are 56 years old, and Unit 3 is 46 years old. Buckeye Power also has an 18% share in the Ohio Valley Electric Corporation, which owns the two 1950s-era coal plants involved in the state's ongoing House Bill 6 corruption scandal.
The marginal costs to run almost all existing coal plants in the United States already exceed the levelized all-in costs of new solar or wind generation, Energy Innovation Policy & Technology reported earlier this year.
Also, a report released in August by the Evergreen Collaborative estimated the Cardinal Plant's costs going forward will be roughly $31.16 per megawatt-hour. Regional wind generation is 18.6% less costly than coal, and local solar is about 11% cheaper, the report said.
In addition to New ERA grants, Buckeye Power could "stack" money from other funding opportunities and tax incentives to further cut costs for switching to clean energy, said Mattea Mrkusic, energy transition policy lead at Evergreen Collaborative. The IRA provides larger credits if projects meet criteria for prevailing wages and domestic materials, for example.
Much of the territory served by members of Ohio's Electric Cooperatives falls within areas designated under the IRA as "energy communities," Mrkusic also noted. Those are areas that have had coal closures or disproportionately relied on coal, oil or natural gas. The designation qualifies clean energy projects for even larger tax credits.
"Rural co-ops should really take this money on the table to make power more affordable for lower-income communities," Mrkusic said. "This is an equity issue."
A July 2023 analysis prepared for the Sierra Club's Beyond Coal program reached similar conclusions.
Heavy reliance on an aging coal fleet already means many rural cooperative customers pay more than those of investor-owned utilities, the analysis said. The report used 2020 data from the Energy Information Administration for an example in which residential customers of a co-op in southwestern Ohio paid roughly twice the per kilowatt-hour rate that AES Ohio's residential customers paid in neighboring areas.
Overall, the Sierra Club report estimated Buckeye Power could save 4% on wholesale power costs by 2032 by switching all its current coal generation, including both the Cardinal and OVEC plants, to a mix of 2,370 MW of solar generation, 1,080 MW of wind power, 1,700 MW of battery storage and just 5 MW of combustion turbines.
Funding under the New ERA program, tax credits and other federal funding opportunities could offset up to 73% of the plan's estimated costs of $5.66 billion, the analysis said.
A more scaled-back plan to replace just Cardinal Unit 2 would cost about $1.56 billion, the Sierra Club analysis said. Up to four-fifths of that amount could be recouped through federal funding and incentives, the report added. The plan would replace Unit 2 with 300 MW of wind energy, 650 MW of solar generation and 470 MW of battery storage.
Cutting CO2 emissions
Applying for the New ERA funds is a necessary step for getting money, but getting funding won't be automatic. Buckeye Power should expect competition from other rural electric cooperatives seeking a piece of the New ERA funding pie, the Sierra Club's Waggoner said.
"The folks at Buckeye need to be thinking proactively," Waggoner said. "They need to be thinking about what they can do to best show the largest amount of emissions reductions, considering how heavy they are in terms of carbon with their coal exposure."
Replacing the older coal generation would make a big dent in Ohio's greenhouse gas emissions, which drive human-caused climate change. Ohio ranks fifth among U.S. states for carbon dioxide emissions, the Energy Information Administration reports.
The Cardinal plant's three units emitted more than 11 million tons of carbon dioxide in 2022, an increase of more than 365,000 tons compared to the year before, according to data from the U.S. Environmental Protection Agency.
The U.S. EPA's data set also shows OVEC's Kyger Creek plant emitted roughly 6 million tons of carbon dioxide last year, and its Clifty Creek plant in Indiana released about 6.5 million tons of carbon dioxide. Collectively, the emissions of those plants are comparable to roughly 5 million passenger cars.
For now, Buckeye Power's plans appear to call for shutting down roughly one-third of the Cardinal plant's total generating capacity within the next five years.
American Electric Power sold its ownership interest in Unit 1 to Buckeye Power in August 2022. The website for Cardinal Operating Company, which runs the Cardinal Plant for Buckeye Power, said the purchase "paves the way for Buckeye Power to shut down Unit 3 by the end of 2028."
New federal rules proposed in May call for additional big cuts in greenhouse gas emissions by 2038, primarily by adding carbon capture and storage.
The Edison Electric Institute and multiple utilities have objected to the rules, claiming carbon capture technology is not commercially proven and power shortages could result if plants must shut down within the rules' proposed timeline. Buckeye Power likewise opposes the proposed rules.
"It is unknown at this time how much, if any, funding Buckeye Power would receive from the funding opportunities," said Pat O'Loughlin, president and CEO for Ohio's Electric Cooperatives and Buckeye Power. "We do know that replacing the energy from existing resources that the proposed rule would likely force to retire prematurely would have costs much greater than the maximum available from these programs."
For now, work on a proposal under the New ERA program is underway, said Ben Wilson, director of power delivery engineering for Buckeye Power. Buckeye Power also submitted an application under the Bipartisan Infrastructure Law's $10.5 billion GRIP program. GRIP stands for Grid Resilience and Innovation Partnerships and aims to boost electric grid flexibility and resilience in the face of climate change.
"Under both applications [for GRIP and New ERA], without sharing too much detail, we are aiming to position Buckeye Power to have a reliable, cost-effective power supply that we can confidently count on for many years to come," Wilson said.