TOKYO, Sept 1, 2023 - (JCN Newswire) - Yatsushiro City, Kyushu Electric Power Co., Inc. (hereinafter "Kyushu Electric Power"), NTT Anode Energy Corporation (hereinafter "NTT Anode Energy"), and Mitsubishi Corporation (hereinafter "MC") are pleased to announce our signing of an agreement to strengthen collaboration and accelerate efforts to grow the use of renewable energy, thereby helping to expedite Yatsushiro City's transition to carbon neutrality.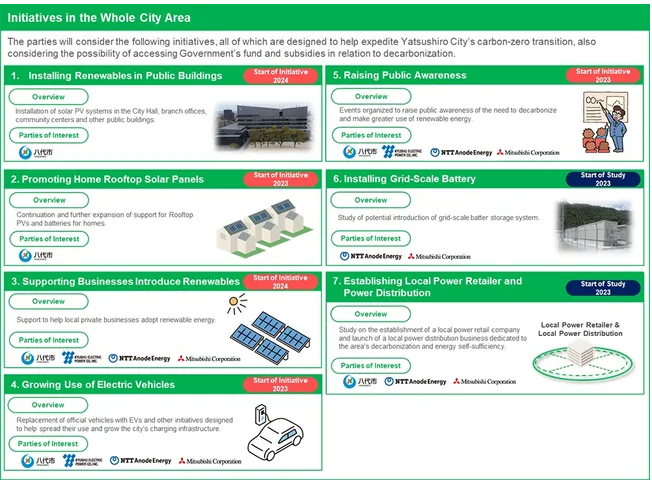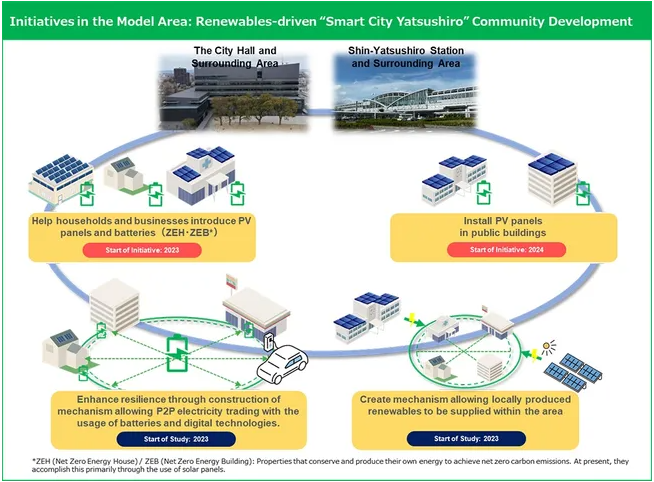 Background
The city of Yatsushiro in Japan's Kumamoto Prefecture is facing a number of challenges, including local labor shortages driven by an aging society and declining birthrate, industrial stagnation exacerbated by depopulation, and damages caused by the wide-scale flooding that occurred in 2020. Under phase two of their comprehensive redevelopment plan, the municipal authorities are not only endeavoring to make Yatsushiro more resilient to natural disasters, but also taking strategic initiatives to rebrand it as a "Smart City." The work therein includes leveraging new digital technologies to help the city address its abovementioned challenges and achieve carbon neutrality.
Areas of Collaboration and Model Project
- Areas of Collaboration
To help expedite Yatsushiro City's carbon-zero transition, our four parties have agreed to collaborate in the following areas:
1. Leveraging of private services to promote the citywide use of renewable energy.
2. Encouragement of private homes, businesses, public facilities and other properties to switch to renewable energy.
3. Promotion of local-production-for-local-consumption renewable-energy model and revitalization of the local economy.
4. Leveraging renewable energy to make Yatsushiro a more resilient city that is less vulnerable to natural disasters.
5. Other work designed to encourage decarbonization, including energy conservation and electrification initiatives, and PR work to raise awareness.
- Model Project
The parties have agreed to undertake a model project in a designated area around Shin-Yatsushiro Station and Yatsushiro City Hall (hereinafter "Model Area"). The project will encompass the following trial operations which will be carried out by agreed parties, with an aim to commercialize them.
1. Installation of photovoltaic power generation facilities, etc. in the Model Area