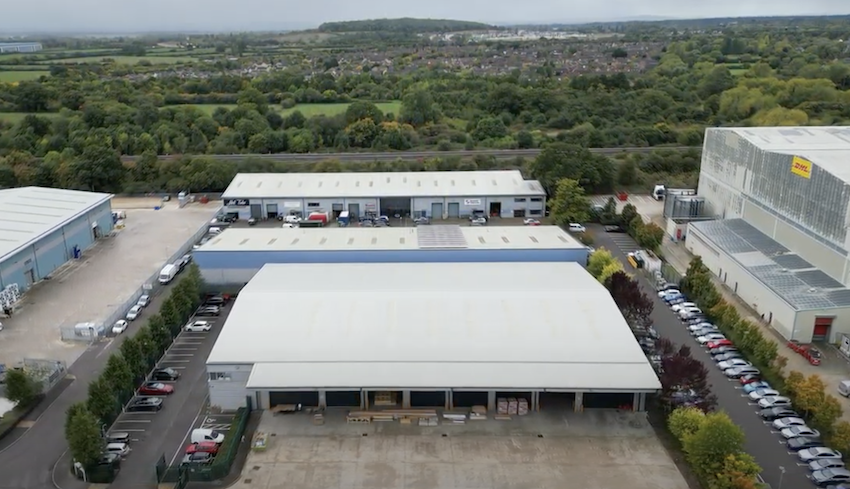 Drone footage at the Greencore factory. Image: Greencore Home.
A new three-way partnership will use financial, legal and commercial support to help expand rooftop solar on commercial buildings.
'Climate positive' housebuilder Greencore Homes has partnered with its factory landlord, LondonMetric Property and Microgrid infrastructure company SNRG to install a SmartGrid at its factory in Bicester, Oxfordshire.
A SmartGrid is a 'place-based power system' consisting of solar photovoltaic (PV) panels, battery storage and intelligent optimisation, which will produce renewable energy for the building it is situated on.
The SmartGrid at Greencore Homes will include a 726-panel, 302kWp rooftop solar array and a 100kw/200kWh battery energy storage system (BESS).
According to Greencore, the SmartGrid will reduce its electricity bills by an estimated 18%.
SNRG will install and operate the SmartGrid in Oxfordshire, helping overcome key challenges usually faced when installing renewable technologies in commercial buildings.
One of these challenges is the high upfront costs of a renewable energy system, which SNRG's solution is to fund itself – the estimated cost to install the system is £400,000.
SNRG will sell power generated by the system to Greencore at "commercial attractive rates."
Initially, Greencore was required to only utilise half of its roof space with a conventional solar system, due to its Distribution Network Operator (DNO) placing an export limit of 137kW on its existing connection.
However, a the SmartGrid uses active import and export controls alongside a hybrid sole inverter to enable SNRG to cover Greencore's whole roof space with 302kWp of solar panels with an additional BESS.
This was achieved without the DNO requiring payment from Greencore for grid reinforcement works.
Another common complication for commercial properties looking to install roof top solar systems the presence of rental legal complications a- according to Greencore 55% of commercial properties in the UK (by value) are rented.
To ease this aspect, SNRG will manage all legal and commercial requirements, making them more attractive for landlords by offering a "significant revenue stream."
"We're excited to partner with Greencore and LondonMetric, who are aligned with our core mission of accelerating the all-electric, net-zero transition," said Henry Leivers, chief operating officer at SNRG.
"There are hundreds of thousands of UK businesses leasing commercial buildings that are locked out of the financial and environmental benefits of rooftop solar.
"This SNRG project demonstrates that by intelligently designing, funding and orchestrating renewable energy assets onsite, landlords and tenants can benefit from SNRG SmartGrids today."
Ian Pritchett, Greencore co-founder and growth and innovation director, added: "Producing our own renewable energy is absolutely aligned with our ethos as a company and what we want to be doing.
"We put solar PV on all of our houses, which are designed to be net zero energy in-use, so it makes perfect sense that we should try and get as close to that for our office and factory as well.
"We were so impressed by the creativity of the SNRG model."
Commercial buildings hold a huge potential for expanding roof top solar in the UK. Construction analysts Barbour ABI recently published research which found that warehouses could create up to 25GWp of new rooftop solar capacity. Therefore, solutions such as SNRG's that can enable the installation of rooftop solar on commercial buildings can be hugely significant in the road to net zero.