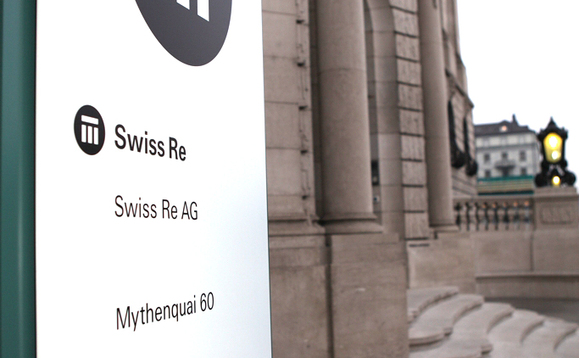 Image: Credit: Swiss Re
Reinsurance giant withdraws from UN-led climate initiative 'with immediate effect', following hot on the heels of Munich Re, Zurich and Hannover Re
Swiss Re is to exit the Net Zero Insurance Alliance (NZIA) "with immediate effect", marking the latest in string of departures from both insurers and reinsurers to the UN-convened climate initiative.
The NZIA is a member-led group that supports insurance members to decarbonise their underwriting portfolios, all of whom are expected to provide annual reports on their progress.
However, there have been a string of departures from the Alliance - which is itself part of the broader Glasgow Financial Alliance for Net Zero (GFANZ) umbrella launched at COP26 - in recent months, amid concerns from some members over antitrust risks and strict requirements on emissions reporting, among other issues.
And, in a statement earlier this week, reinsurance giant Swiss Re also confirmed its intention to exit the group.
"Swiss Re has decided to withdraw from the Net Zero Insurance Alliance with immediate effect," it said. "Our commitment to our sustainability strategy remains unchanged."
Swiss Re's announcement follows the departure of Munich Re in March, and both Zurich and Hannover Re in April.
In a statement on Wednesday, the United Nations Environment Programme (UNEP) indicated recent moves by some US states to clamp down on ESG investment and financial sector rules may have spooked some insurers in the NZIA with significant proportions of their business in North America.
But UNEP said that while "every company has the freedom to join or withdraw from the NZIA at any point in time and for any reason", it would continue to "strengthen and deepen its collaborative work with the insurance industry and key stakeholders to advance net zero insurance thinking and practices globally".
"Regardless of the situation, UNEP reaffirms its conviction ever since it initiated, convened, and launched the NZIA - that in order to successfully tackle the climate emergency, there is a fundamental and urgent need for collaboration, not just individual action," it said.
"The NZIA has provided a framework that enables insurers and reinsurers and other insurance market participants across the globe to individually start or propel their respective net zero insurance journeys and take urgent and ambitious individual, unilateral climate action. This is why UNEP will continue to strengthen and deepen its collaborative work with the insurance industry and key stakeholders to advance net zero insurance thinking and practices globally."
The statement follows that from Munich Re's chief executive Joachim Wenning in March, who suggested at the time of the firm's departure from NZIA that antitrust risks were a key concern, although he also insisted the firm remained committed to tackling climate change.
"In our view, the opportunities to pursue decarbonisation goals in a collective approach among insurers worldwide without exposing ourselves to material antitrust risks are so limited that it is more effective to pursue our climate ambition to reduce global warming individually," he explained. "Our climate commitment is unwavering. We follow scientific recommendations. To date we are decarbonising even faster than what is required to reach net zero by 2050."
Last month, Zurich told COVER that it left the alliance as it plans to instead focus on supporting its customers with their transition to net zero.
"After establishing a standardised methodology for measuring and disclosing greenhouse gas (GHG) emissions associated to insurance and reinsurance underwriting portfolios, we want to focus our resources to support our customers with their transition. We continue to remain fully committed to our sustainability ambitions and to supporting the net-zero transition," Zurich stated.
Hannover Re also told COVER at the time: "After careful consideration, Hannover Re has decided to leave the Net-Zero Insurance Alliance. Regardless of this, Hannover Re remains committed to its sustainability strategy, the associated goals and its support for the Paris Agreement, and aims to achieve full climate neutrality by 2050 at the latest."
At the time of publication, the exodus leaves Aviva, AXA and SCOR among firms in the protection and health insurance industry that remain NZIA members.
Amid the growing spate of exits from the group, however, the chief executive of Lloyd's of London - another NZIA member - John Neal called for a rethink of membership rules to make them less prescriptive, warning that without such changes the group risked falling apart completely.
Speaking to Reuters, Neal said membership rules and reporting requirements were to blame for insurers getting cold feet in the NZIA. "There are five objectives, and you have 12 months to meet one of them and 36 months to meet three of them," he told the newswire. "NZIA need to have another look at what their objectives are or the alliance will fall apart."
However, he stressed that Lloyd's itself already fully complied with the membership terms of the NZIA and that the firm had no plans to exit the group. "We don't need to precipitate this," said Neal.
The growing list of firms exiting the Alliance has prompted criticism from campaign groups, however.
Patrick McCully, senior analyst at Reclaim Finance, urged UNEP and the NZIA's remaining membership not to cave in to demands of insurers to weaken membership rules.
"As the Net Zero Insurance Alliance disintegrates before our eyes, we must ask why these huge companies with their hordes of lawyers did not see anti-trust issues as a major obstacle when they founded the alliance," he said. "And we must wonder whether their ditching of the alliance has more to do with fears of losing business in the US than real legal jeopardy. Real climate leaders need to fight climate denial, not cave to it. What is crucial now is that insurers do not reverse their existing climate pledges. If they cannot act together, they must act alone."