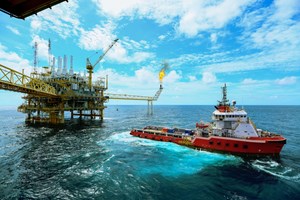 (WO) – Eco (Atlantic) Oil & Gas Ltd., the oil and gas exploration company focused on the offshore Atlantic Margins, has noted Africa Oil Corp.'s publication of an independent, NI 51-101 compliant report of qualified reserves and resources evaluator for Block 3B/4B offshore South Africa (the "CPR"). The CPR was commissioned by Africa Oil Corp. and issued by RISC Advisory (UK) Limited, an independent oil and gas advisory firm.
offshore Africa platform and vessel
RISC's analysis of the license identifies total Unrisked Gross P50 Prospective Resources of approximately 4 Bboe. Exploration risk (Pg) for the identified prospects and leads were assessed by RISC to range from 15% to 39%.
Colin Kinley, Co-Founder and COO of Eco Atlantic commented, "After completing an extensive reprocessing of the 3D on 3B/4B, this CPR by RISC confirms 3B/4B's potential and generates exciting prospectivity on this unique Orange Basin block. The region offshore Namibia and South Africa continues to be an exploration hotspot and yielding dramatic discoveries.
"The estimated 1 Bboe of P50 prospective resources net to Eco are all in prospects of similar geologic age and structure to that of the recent discoveries announced by TotalEnergies and Shell in the same horizons of the Orange Basin.
"We are working closely with our JV partners on a potential farm out of up to a 55% gross working interest in the block, which will help accelerate the commencement of a two well drilling program on the license. We believe that this is a highly prospective block with multiple exciting exploration prospects. We look forward to updating the market on further developments of Block 3B/4B as exploration activity continues to accelerate in this basin."