Cornwall Insight has released the final prediction for the April Default Tariff Cap (price cap) following the closure of the observation window1, on 17 February. We are predicting the cap for a typical household2 to be £3,294 equivalent per year. Ofgem will announce the cap on 27 February.
Consumers will not be directly impacted by the price cap due to the Energy Price Guarantee (EPG), which will limit a typical household's energy bill to £3,000 equivalent per year, a rise from the current rate of £2,500. We have also released our predictions for the per unit and standing charge.
If, as forecast, the level of the EPG is lower than the April price cap, the government will pay suppliers the difference. The greater the disparity between the cost of the two schemes the higher the governmental expense. Our forecasts show that raising the EPG from £2,500 to £3,000 in April will save the government £2.6bn across the entire scheme. Based on projected costs, if the EPG were to increase to £3,000 as planned, the estimated cost would be £26.8bn while if it were to remain at £2,500, the estimated cost would be £29.4bn.
We are additionally sharing our predictions for the July and October price caps. Our forecasts for the two caps are lower than the EPG, which will mean – should these forecasts be achieved – the government will effectively incur no cost for the EPG scheme during this period.
We also note that there are ongoing industry consultations which will impact our forecasts for the remaining 2023 periods, and which we have not included given the uncertainty regarding their outcome – although these are not expected to be material.
Figure 1: Cornwall Insight's Default tariff cap forecasts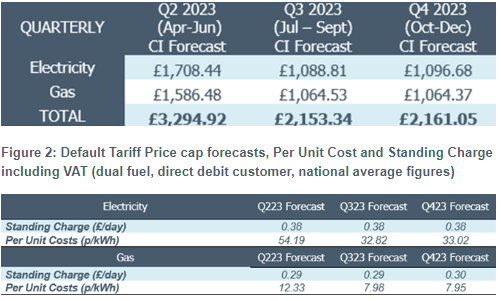 Dr Craig Lowrey, Principal Consultant at Cornwall Insight said:
"Regrettably the forecast for April looks set to leave the price cap above the increased Energy Price Guarantee level, meaning average annual consumer bills will effectively jump by 20% (£500). However, this is before we take into account the end of the £400 energy rebate scheme in March, meaning that the cost of energy for households will increase by even more. While tumbling cap projections are a positive, unfortunately, already stretched households will be seeing little benefit before July.
"In the latter half of the year, we see a notable shift in our predictions, as the cap falls below the government support price for the first time since the introduction of the EPG in October. This gives us optimism as far as the wider energy debate is concerned. While prices under the cap remain considerably higher than historic norms, the combination of falling wholesale prices and an increase in the EPG could see the return of competitive tariffs, and with it the chance for consumers to take back some control over their energy bills.
"Of course, all of these outcomes remain subject to wholesale energy market volatility – the potential for which cannot be discounted while the current energy crisis is still ongoing. As demonstrated by events over the past year, international incidents can significantly impact energy prices, and our dependence on foreign energy imports leaves us more susceptible to global changes. What we can say is current indications show the outlook for energy bills improving, which in itself is a positive sign."