The China Three Gorges Corporation joins hands with Huawei Cloud Stack to safeguard dam operations in real time through digital advances like cloud computing and big data.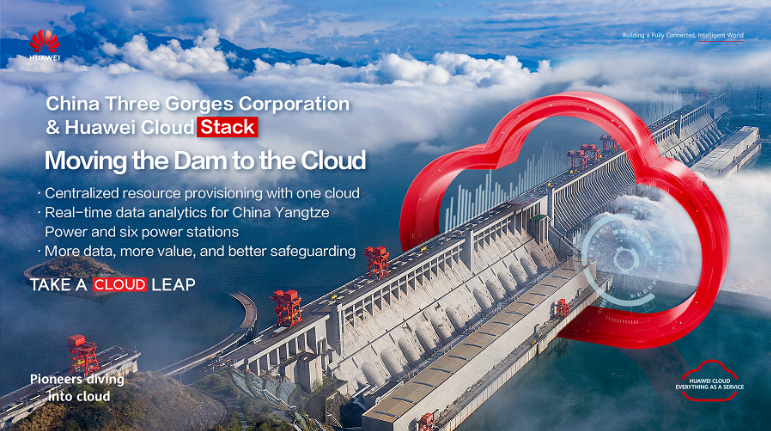 Located on the Yangtze River, the Three Gorges Dam is the world's biggest hydroelectric power project. It sits on China's "golden waterway" to control floods, boost water transport, and generate prodigious amounts of electricity.
The dam is one of six giant hydropower stations along this river. Along with Gezhouba, Xiangjiaba, Xiluodu, Baihetan, and Wudongde, it is built and operated by the China Three Gorges Corporation (CTG). This state-owned clean energy company deploys 110 hydropower generators with a total capacity of 71.695 million kW and an annual yield of 300 billion kWh, which saves 90.45 million tons of coal per year.
You may think of hydropower as a primitive technology – crudely managed or badly secured. But CTG has transformed their hydropower stations with the latest tech. Digital advances like cloud computing and big data provided by Huawei Cloud safeguard dam operations in real time. Hydropower has never been so intelligent.
Why CTG dives into cloud for transformation
To become a world-class clean energy group and leader of the innovation curve, CTG wanted to leverage digital transformation for efficiency, management, and innovation.
They deployed multiple infrastructure platforms at different stages of development. However, such scattered platforms made it hard to balance resource usage, upgrade architectures, and centralize monitoring and management. CTG wanted a single, central cloud platform connecting their legacy platforms and scaling flexibly to meet their ever-increasing business needs.
Another challenge was the sheer volume of data generated every day. Since data is a key enabler of digital transformation, CTG needed help to unleash its value for more secure hydropower generation. CTG looked for big data technologies collecting and merging data from generator sets in real time. They hoped to establish models for pre-warnings, fault diagnosis, and performance optimization. With these models, they prevented unplanned shutdown and major faults while improving water energy utilization and equipment availability.
Thankfully, CTG chose Huawei Cloud as a competent, trusted partner. Backed by Huawei's years of technical expertise and experience in serving digital transformation of diverse enterprises, Huawei Cloud rose to the challenge. Since 2019, the partnership continues to dive into cloud from a robust foundation for digital transformation.
One cloud unifies the whole group
CTG has leveraged MRS provided by Huawei Cloud Stack to create many management systems: staffing, finance, materials, planning, contracts, procurement, and technologies.
Since 2021, CTG has used Huawei Cloud Stack to deploy the Three Gorges cloud platform it needed for unified planning, easy sharing, and centralized deployment. This single, unified cloud for the entire group centralizes resource provisioning and provides scalable infrastructure for a wide range of applications. Agile innovation takes security of power generation to the next level. The platform is in CTG's primary data center located in Yichang, a prefecture-level city in China. 300 deployed nodes provide the nearly 10,000 compute resources that CTG requires for infrastructure and digital transformation.
Cloud-based data governance and analytics for intelligent power generation
CTG harnessed big data capabilities provided by Huawei Cloud Stack to unify data standards, which boosts data sharing. In exploring data value to improve data convergence and system integration, they built a command center with dashboards for actionable data insights. All these helped CTG improve efficiency in operations management and emergency response.
Data governance is crucial in power generation. CTG's six power stations are dispersed in different provinces, generating OT data from over 4 million measurement points and 50,000 data tables from IT devices. The IT and OT data is scattered across different platforms, resulting in silos and delays.
Huawei Cloud's data governance center, DataArts Studio, helped CTG turn things around. It centrally accesses statistics collected from underwater robots, generator sets, and motor rotors of power stations at the edge. A helpful UI provides visual configurations for data processing. Plus, it merges and imports off-line IT data and real-time IT and OT data to data lakes. Thanks to DataArts Studio, CTG establishes data lineage and quickly identifies malfunctioning devices.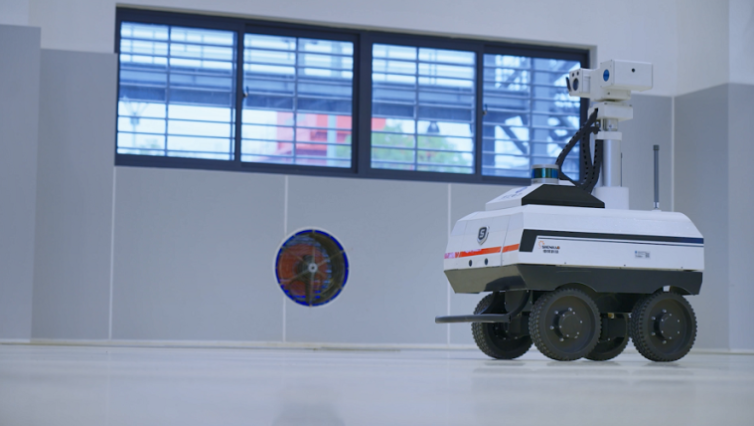 Inspection robot
The architecture leveraging cloud-edge synergy consists of one central cloud and six edge clouds each for a power station. Data from the edge merged into the center.
CTG leveraged Huawei Cloud's FusionInsight MRS to deploy a lakehouse architecture that unifies data lakes and warehouses into one real-time data lake. The data lake has accessed 100 GB of data included in over 5,000 tables from more than 60 data sources, and has turned the data into more than 3,000 data assets in 50 categories. MRS also helped CTG create big data models and analytics applications for power generation. 11 major station applications including operations, device maintenance, and production achieved real-time data analytics. Faults are detected in advance and rectified promptly.
Song Jinghui, Senior Researcher of Technology Research Center in China Yangtze Power (a CTG's subsidiary), said: "MRS helped us identify falling fuel levels in a thrust bearing 10 days in advance. For a given set of power units and with the same water head, less water usage means higher efficiency. Considering the annual power yield, even a 1% reduction in water usage means much greater efficiency."
The intelligent data foundation empowers CTG to unleash the value of mass data on the cloud – the constant thrust they need to push intelligent power generation.
Utilizing clean energy and protecting the Yangtze river ecology
Digital technologies inspire CTG to go beyond power generation: intelligent dam operations, new energy development, and Yangtze River ecology protection.
CTG powers water pollution control in cities. A comprehensive supervision system centrally controls water pollution from plants, stations, pipe networks, rivers, to outlets. A visual monitoring and governance platform sends rapid warnings, identifies sources, and penalizes lawbreakers. While centrally monitoring and controlling water environments, CTG also piloted an intelligent water project. Tech such as ultrasound radars, chips, mobile Internet, and geographic information system (GIS) helps protect endangered fishes in Yangtze River. CTG visually monitors Chinese sturgeons released into the Yangtze River online and perform data-driven analytics. This creates an internet for accessing sturgeon data.
CTG has also invested in IDC development. They are working with Huawei on a zero-carbon data center for green power in green computing. The first phase is currently in production and has become the largest data center in Central China.
Jin Heping, Chief Information Engineer of China Yangtze Power, said: "One of the important strategies for digital transformation in the 14th National Five-Year Plan is to promote digital industrialization, not just industry digitalization. With bits (information) driving watts (power), we lead digital industrialization by accelerating green computing using clean energy and developing services to let data flow."
By moving to cloud and fully utilizing data and smart tech, CTG spearheads digital transformation while promoting both industry digitalization and digital industrialization. CTG is committed to utilizing clean energy and protecting the Yangtze River ecology.
With 30 years of history and now empowered by digital tech, CTG will see a better, sustainable future.
See how Huawei Cloud can help the China Three Gorges Group boost efficiency, security, and innovation for a sustainable future here.