Measures outlined by the South African president in his State of the Nation Address (SONA) include market reforms and the appointment a Minister of Electricity to assume full responsibility for overseeing all aspects of the electricity crisis response. The government has declared a national state of disaster to respond to the ongoing crisis.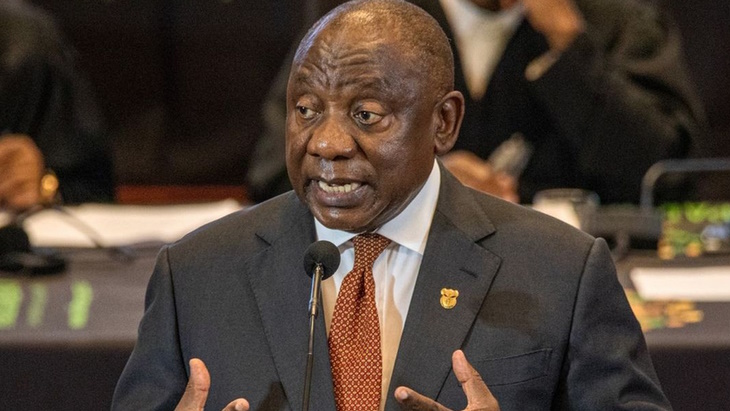 President Ramaphosa delivers the SONA on 9 February (Image: Parliament of South Africa)
"Our country has, for many months, endured a debilitating electricity shortage that has caused immense damage to our economy," Cyril Ramaphosa said in the address, which was delivered at Cape Town City Hall on 9 February.
Persistent loadshedding is impeding recovery from the effects of the COVID-19 pandemic and events including catastrophic flooding that struck parts of the Eastern Cape, KwaZulu-Natal and North West last year, he said.
"We know that without a reliable supply of electricity, businesses cannot grow, assembly lines cannot run, crops cannot be irrigated and basic services are interrupted … Without a reliable supply of electricity our efforts to grow an inclusive economy that creates jobs and reduces poverty will not succeed," he said. The government's "most immediate task" for the comping year is therefore to "dramatically" reduce the severity of load shedding and ultimately to end it altogether.
The president last July unveiled a five-point action plan to address an electricity generation shortfall of 4000 to 6000 MW, with key interventions to improve the availability of existing supply, enable and accelerate private investment in generation capacity, accelerate procurement of new capacity from renewables, gas and battery storage, support the roll-out of rooftop solar, and to transform the electricity sector to achieve long-term energy security.
"Later this year, we will table the Electricity Regulation Amendment Bill to transform the energy sector and establish a competitive electricity market," Ramaphosa said. This is in addition to a previously announced restructuring of state-owned utility Eskom.
While the measures are now in place that "will result in a massive increase in power to the grid over the next 12 to 18 months and beyond," he said, the impacts of the electricity crisis are being felt throughout South African society.
"The National Disaster Management Centre has consequently classified the energy crisis and its impact as a disaster," he said. "We are therefore declaring a national state of disaster to respond to the electricity crisis and its effects."
The declaration of the State of Disaster - which has already been gazetted - means the government can take "practical measures" to support vital businesses, to exempt critical infrastructure such as hospitals and water treatment plants from load shedding where technically possible, and enable the government to accelerate energy projects and limit regulatory requirements "while maintaining rigorous environmental protections, procurement principles and technical standards".
"To deal more effectively and urgently with the challenges that confront us, I will appoint a Minister of Electricity in the Presidency to assume full responsibility for overseeing all aspects of the electricity crisis response, including the work of the National Energy Crisis Committee," Ramaphosa said. The new minister will "focus full-time" and work with Eskom on ending load shedding and implementing the energy action plan.
"We will emerge from this crisis with an electricity system that is more efficient, more reliable and more competitive," the President said.
Mineral Resources and Energy Minister Gwede Mantashe said the announcement of a State of Disaster and a Minister of Electricity shows the seriousness with which the government is approaching the energy deficit. Speaking at a joint sitting of the two houses of South Africa's legislature - the National Assembly and the National Council of Provinces - on 14 February, he said: "This is not reductionist. It is communicating a sense of urgency and the desire to resolve this because we don't have time to wait for 24 months to resolve load shedding. That is how serious the President takes this crisis."
Eskom continues to implement loadshedding on a daily basis. As of 12 February, the utility reported that 16,920 MWe of generating capacity was currently affected by breakdowns while 5759 MWe remained out of service for planned maintenance. That includes 920 MWe of capacity at the Koeberg nuclear power plant, where unit 1 is currently offline for a planned 6-month outage during which its three steam generators are to be replaced.