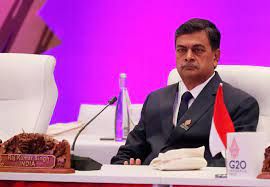 Fuel supply for gas-based power plants has been secured for the anticipated peak demand, Power Minister RK Singh said on Sunday. If needed, section 11 of the Electricity Act, may be invoked in 15-20 days, Singh told ET in an interview on the sidelines of the G20 Energy Transition Working Group meeting in Bengaluru. Edited excepts from an interview with ET's Shilpa Samant.
Discussions for gas supply has been on for some time now for an anticipated peak power demand this year. Has there been an arrangement with GAIL (India) for the same?
We have done arrangements for gas for peak demand. We have spoken to GAIL and they are ready to give us the required gas in the peak months. Our requirement would be 248 MMBtu of gas and which we will get from them. Up till now, because the price of the gas-based power unit is very high, we were not looking at it. Some gas-based stations of NTPC Ltd used to run for providing ancillary services. This time we said we will also have gas-based power available in the high-price segment of the power exchange. There are two segments - the one where the price is capped at ₹12 per unit. The other will be for gas, imported coal-based plants, and for renewable energy with storage.
The government has given much focus to battery energy storage systems. If it remains commercially unviable globally, what will be India's stance?
We won't compromise with our electricity requirement. Our demand is rising and you can imagine the demand of a country like India growing at 10.5%. This year I don't think the power demand growth will be less than 10%.
How soon can we see a notification for re-invoking section 11 of the Electricity Act, considering winter may just be over and we may be heading towards seasonally higher demand?
If it is needed we will invoke it. If it is not needed, we won't. Depending upon the situation, I think we can see section 11 being invoked in the next 15-20 days.
Last year, we had a major issue in the logistics for coal supply in the summer season. Have you and the railway ministry worked out the evacuation of coal if such a scenario arises this year?
We have constant dialogue with railway and concerned ministries for coal evacuation. Our reserves for coal have grown and now we are already at 31.6 million metric tonnes. I would say that we are okay. We have 440 rakes per day dedicated to the power sector, and we are building up adequate stocks for the peak season. We are expanding the production in captive coal mines. We have also already brought out a rule that no distribution company is allowed to do any load shedding.
Do you think imported coal will continue in the long term as commercial coal is expected to add to the supply in a few years?
Once our logistics improve, with more sidings and more lines, the supply will get better. It should take a couple of years but logistics issues need to be sorted out.
Hydro power is important this year for grid stability and peak demand. Has hydro sector taken a backseat in the advent of the Joshimath issue and perception building thereafter?
That perception is wrong. Joshimath land dissidence is not because of hydropower plant. There is no connection whatsoever. The issue started even before NTPC's power plant was conceived. The project work started in 2009 whereas the problem in Joshimath started in 1975. I think the project will continue because it has nothing to do with the issue and it is 15 kilometers away from where the houses got cracks and between the project and Joshimath there are numerous villages that do not have such issues.
With the sovereign green bonds issue going on, have you identified the projects on which the proceeds will be spent?
We have some renewable energy projects already. We have offshore wind energy projects. For the offshore projects we will continue with them with or without green funds. We will need some funds for project-linked incentives which will be from the Budget. Green funds will go as loans and viability gap funding for battery energy storage is from the Budget.
Is the government considering other reforms in the power sector?
All the reforms we have made in the power sector have resulted in the improvement in aggregate technical and commercial losses by 5 percentage points in FY22 to 17%. There are a few things that must be done. Power tariff has to be cost reflective. Whatever subsidy has to be given that needs to be given separately so that tariff is reflective of the cost. This provision is there in the National Tariff Policy.